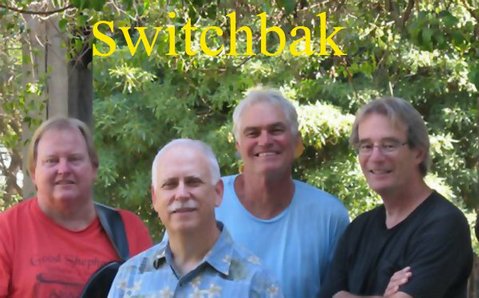 SWITCHBAK

"Listen to the Music"
"Wrong Thing To Do"

Musicians
Genre: Obscure to Major Rock & Roll
Sound description: Often imitated but never duplicated
RIYL: Hard hitting rock with a sleight of hand and vocals
Web site: http://www.myspace.com/switchbak
Email: bbowski@hotmail.com
History
Finally found the right combo of musicians, quit our day jobs and went off in search of the light. Got our day jobs back, played a lot in the garage and went public with a pile of other people's songs but with our own twist on em. Having a good time is still the number one draw.
Upcoming shows
None scheduled
Formed
2008, Santa Barbara, CA
Influences
Petty, Lindley, The Boss, Alman Bros, ZZTop
Current status
Playin around SB and Ventura, local clubs, weddings, car shows, parties, what have you.