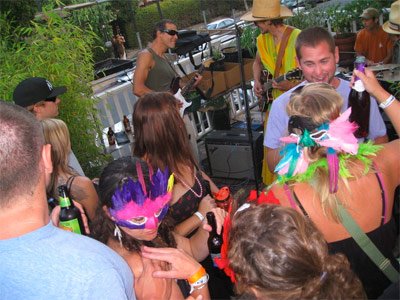 The Drop In
Musicians
Genre: Rock
Sound description: The Dropp takes rock oriented pop and weaves it in and out of punk, surf, and reggae rhythms to create a more than pop message with a beat any hesher could head bang to, while the birds get their groove on. We are just a dropp in the ocean.
RIYL: The Drums, King Lear
Email: jahmail@gmail.com
History
The Dropp, launched on Solstice weekend under the name Mi Fiesta, plays a tasty oatmeal bowl of underground 80's punk, post-Dead jam, sprinkled with cheesy arena rock, and a beat Elvis' daughter can dance to.
Ove and Elijah, who are friends and chase waves together, brought practice to Rich's studio and the stars aligned for the flower power trio. Droppheads from California to Florida have been dropping in ever since.
current status: Two demo CD's made and the band is deciding upon their next venue. The Dropp is all about local music showcases and hopes that Santa Barbara venues will step up and bring prices down to $6/show or less, so that a real music scene can be allowed to grow and kids in town can enjoy some culture.
The Dropp is also concerned about the state of the ocean and would like to play a benefit concert with other local bands to raise funds for surfrider foundation.
Upcoming shows
None scheduled
Formed
2010, Santa Barbara, CA
Influences
the stooges,the police, nirvana, black uhuru, mc escher recommended if you like: the clash, the drums, the beach
Current status
We have two sets of demos that we recorded and we are ready to gig.