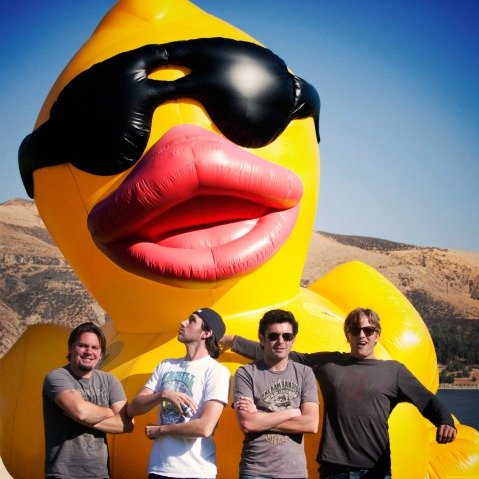 Tripdavon

"Never Let You Go"
"Numbing Down"
"Rusted Teeth"

Musicians
Genre: Rock
Web site: http://www.tripdavon.com/
Email: justin@tripdavon.com
History
Tripdavon came together in 2004 and started out playing the nonstop party scene around U.C. Santa Barbara. Friends since childhood, singer Justin Fox and drummer Russ Cummings had played music together for many years. But not until a chance encounter led them to guitarist Greg Doscher and bassist Dave Heer did the band actually start to take shape. A few short years later the guys were playing venues like the Knitting Factory, House of Blues, and the historic Royal Albert Hall, and even touring the world with Eric Burdon of War and The Animals – a far cry from the keggers and local clubs where they cut their chops.
Just as a rolling stone gathers no moss, an evolving band accrues no confining labels. And that's exactly how Tripdavon likes it. The group defies all labels but one: they are, to the core, a rock band and they're not trying to be anything but a rock band. No "alt-"; no "indie-"; no hyphens. Strictly rock. Yet the guys constantly tap into, and are influenced by, many other musical styles. But whether savoring Latin jazz flair or old funk grooves, these guys always make sure their sound rocks. They don't have a platform or agenda. They're not attempting to redefine genres. They are simply four guys from very different artistic backgrounds united by their love of music and insatiable hunger for new adventures and creative frontiers.
Tripdavon's first, self-titled release heralded the band's arrival with powerful melodies, heavy riffs and soulful vocals. As they wrote their sophomore album, The Enlightened Operative, the guys really wanted to amp up the intensity of their sound. So they enlisted veteran music producer Sylvia Massy Shivy – who had previously produced Prince, Tool, and The Red Hot Chili Peppers, among many other notable artists – to achieve a more cohesive, mature and artfully produced album. On Sketches from Silence, their latest offering, Tripdavon rose to yet another stage of musical evolution, channeling the experience and knowledge gained from working with Sylvia to produce the album on their own. But this time, envisioning an even further advanced sound, they combined the melodic tones of the original release with the more visceral guitar rock of their second and infused it with altogether new artistic influences.

Upcoming shows
None scheduled
Formed
Santa Barbara, CA
Influences
Pearl Jam, Soundgarden, Incubus
Current status
With their destination forever ahead, Tripdavon knows there's no time to stand still. It's this ramblin' band mentality that ceaselessly drives them to do what they love most – make great rock music – while hopefully inspiring good feelings and memorable experiences at the same time. In just the last few years, they have not only performed and toured the world with Burdon, they've also provided support for Dishwalla, The Ataris, Fuel, Poison, The Doobie Brothers, Whitesnake, and The Bravery. They scored a national TV debut on HBO's hit show Entourage with their song "Nothing or All," reached #2 on the MySpace Music Charts, and beat thousands of bands across the nation to be named Famecast Fenoms for 2007. Somehow during all of this, the guys also found time to join the Armed Forces Entertainment Tour and perform for more than 50,000 U.S. troops stationed in the Pacific, singlehandedly raise more than $15,000 to aid Hurricane Katrina victims, contribute to Project Greenhouse, support CASA (a group that helps at-risk youth), and take part in many other important humanitarian efforts too numerous to list.