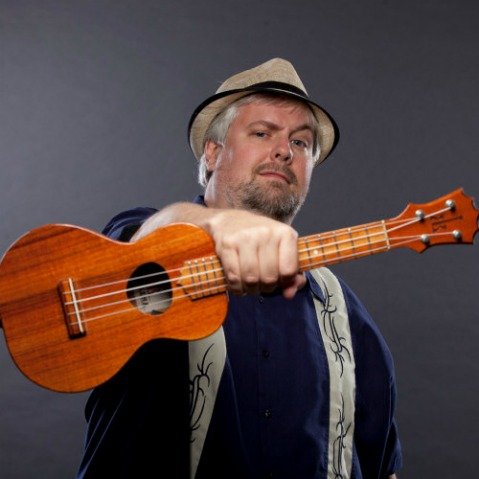 Ukulele Jim

"Home"

Musicians
Genre: Folk Rock
Sound description: Combines the soulfulness of James Taylor with the pop sensibilities of Jack Johnson

RIYL: Tom Waits, Paul Simon, John Denver, Ghostwriter, Buddy Holly, Chris Isaac, Elvis Costello, James Taylor, Brian Wilson, Don McLean, Jack Johnson
Web site: http://www.ukulelejim.net/
Email: jim@ukulelejim.net
History
From his home studio in Santa Barbara, California, James "Ukulele Jim" Clark uses the convenience of the Internet to work with talented musicians from all over the world, creating an international 'virtual group' free from geographical boundaries. This collaborative freedom allows Jim to switch styles between acoustic solo pieces to songs with a full band sound.
Ukulele Jim is also Santa Barbara's best-kept secret because his rise in ukulele music coincided with his starting a family which is currently keeping him relatively close to home. While his wife was pregnant with twins in 2005, Jim began learning the ukulele so his kids would grow up in a house that was always full of music. He is primarily self-taught, drawing from a large pool of influences such as George Harrison, James Hill, Boulder Acoustic Society, Barenaked Ladies, and The Magnetic Fields, just to name a few.

Upcoming shows
None scheduled
Formed
2005, Santa Barbara, CA
Influences
George Harrison, James Hill, Boulder Acoustic Society, Barenaked Ladies
Current status
Released 2 albums to date; working on the third album "Fretting The Small Stuff", to be released later this year