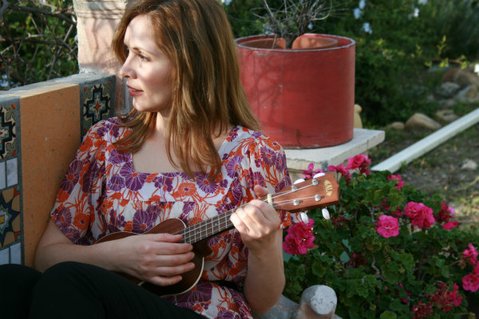 Valarie Mulberry

"Unravel"

Musicians
Genres: Pop, Singer-songwriter
Sound description: influences of jazz, western and blues
RIYL: Carole King, Tift Merritt, Natalie Merchant
Web site: http://www.valariemulberry.com/
Email: vmulberry@gmail.com
History
Typically noticed first for her emotive voice, Valarie Mulberry's song craft has gained attention too, winning her a guitar in a national lyric contest and several regional awards and nominations. Her songs are often informed by her travel adventures; after growing up in the deciduous rain forests of Oregon, she looked for sunnier skies and relocated to Hawaii for several years and then to the bustling streets of Vietnam for two years, eventually winding up in the SF Bay Area where she cut her teeth with extensive live performance as one half of the duo Fly To Blue. For the last six years, Mulberry has been a fixture in Santa Barbara singer-songwriter community. In 2010, she launched her solo career backed up by electric guitarist Maximiliano De
Leon.
Known for connecting with her audience, Mulberry's live show consists of part story telling part dead pan humor. With her songs running the gamut from silly songs about a little boy, eating pie or making light of
getting caught in a love triangle to heavier personal experiences such as learning to let go or how our relationships reflected in the world and then on to storytelling songs about such things as getting caught in
a flash flood waterfall in Hawaii. Musically eclectic she likes to explore the influences of blues, funk and western all the while still being very sonically accessible with fun grooves and catchy melodies. With acoustic guitar as her main instrument she also plays ukulele and harmonica. Mulberry is usually backed up by electric guitarist, Maximliano De Leon. De Leon an adept guitarist, originally from Uruguay, gives each song its own signature sound with the licks and leads of the best radio friendly tunes.
Mulberry has been an ongoing contributing musician to NECTAR, Santa Barbara's professional-level performance artist collective that raises awareness about relevant social issues and funds for local non-profits and she has also been a frequently featured guest on the television show, Musical Café. She has played festivals such as Earth Day and opened for an internationally touring artist at Soho. She has toured up and down the California coast, Hawaii, Oregon and New York. Recently, Mulberry has worked with filmmaker/choreographer Robin Bisio, by providing live music to thoughtful and evocative dance pieces.
Currently, Mulberry has two large projects on her plate as 2012/13 promises to be a big year. She is collaborating on a children's book with illustrator Mollycules aka Molly Hahn (see the Huffington Post "Buddha Doodles" blog in the Good News section). The book titled "Baby Toes" will feature her song Lullaby, with the lyrics of the song being the text of the book. "Baby Toes" captures the precious innocence of infancy that is well loved about newborns. The book will be accompanied by a CD of the song and will also be available in Ebook format. "Baby Toes" is due out December 1st, 2012. In addition, Mulberry is currently recording her solo debut CD. The CD release date to be announced on her website; www.valariemulberry.com
Upcoming shows
None scheduled
Formed
2010, Santa Barbara, CA
Influences
Van Morrison, Be Good Tanyas, Jackie Greene
Current status
Actively gigging and recording.