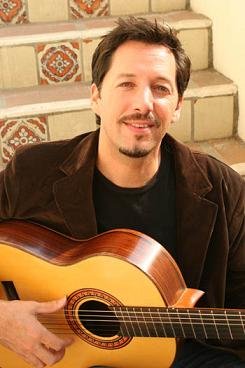 Vincent Zorn

"Arabesque"

Musicians
Sound description: A combination of Nouveau Flamenco artists Ottmar Liebert, Jesse Cook, Willie and Lobo, Rumba super group Gipsy Kings, and legendary Flamenco guitarist Manitas De Plata.
RIYL: Gipsy Kings, Ottmar Kiebert, Willie and Lobo, Jesse Cook
Web site: http://www.vincentzorn.com
Email: music@vincentzorn.com
History
Vincent's profound guitar work unites the fire of Flamenco, sophistication of jazz, and the relaxed sensuality of Bossa Nova together into a rich and edgy gypsy sound. Zorn's Laid back, vibrantly romantic, instrumental compositions enhance any event and invite guests to enjoy a positive, uplifting experience.
Self taught from the age of 11, Zorn has studied in Spain, Turkey, and currently in Mexico three times a year to develop his unique right hand percussive technique that uses the sound-board of the guitar as a percussive instrument with various strumming styles, rhythms, and taps.
"As I am mainly a guitarist, my compositions are rooted in that instrument. However, melodically, I think my playing stems from more of a singer's perspective. Guitarists can get very wrapped up in the technicality of the instrument, forgetting that the the basis of any great song lies within the melody. I compose with this in mind. That is why my compositions generally feature very simplistic melodic themes rather than complex melodic passages that focus on the mechanics and technicalities of the guitar."
As co-founder and co-writer of Flamenco dance band Last Caravan (1997-2000), Zorn has toured extensively throughout California, playing large outdoor festivals such as The California State Fair, Bill Graham's Mountain Aire Music Festival, The High Sierra Music Festival, The Bear Valley Music Festival, The Chico World Music Festival, and every restaurant, coffee shop, club, and college in Northern and Southern California, from Humboldt to Hollywood.
Upcoming shows
None scheduled
Formed
1998, Santa Barbara, CA
Influences
Willie and Lobo, Gipsy Kings, Latcho and Andrea, Ottmar Liebert, Jesse Cook
Current status
Currently you can find Vincent in Santa Barbara where he performs regularly at three popular bistros - Thursdays at Cava in Montecito, Fridays at Zaytoon in Santa Barbara, and The Miro at The Bacara Resort & Spa on Saturday nights.