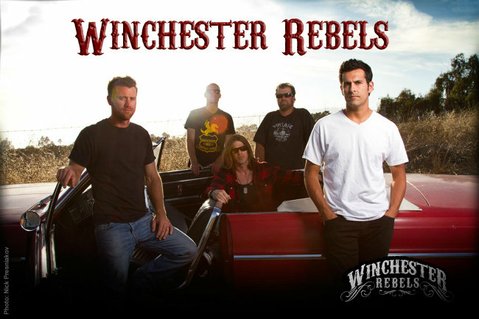 Winchester Rebels
Musicians
Genre: Hard Rock
Sound description: Genuine Hard Rock
RIYL: Alice in Chains, STP
Web site: http://www.winchesterrebels.com/
Email: manager@winchesterrebels.com
History
WINCHESTER REBELS were formed in August of 2009 in the unlikely musical hotbed of Santa Barbara, California. Nick Hunt (frontman/singer from well-regarded local band The Awakend) and "Sicker Than Others" Bassist, John Livergood, had the idea of assembling a group whose sound would echo some of the great hard rock bands from the '90s, while encompassing an original sound all their own. While at a studio in Isla Vista, Hunt came upon Nick Fitzgerald - like himself a member of a popular local band (in this instance, Battleship Grey), who was also looking to expand his musical horizons. A phone call by Fitzgerald to Santa Ynez Valley childhood friend James Longoria (guitar; formerly of the group Giant Squid Show) and Barry Carter (drummer; ex-Fifty Cents Short) completed this new and exciting ensemble.They chose to name the band Winchester Rebels after a similarly- named Canyon Road in Goleta that shoots straight up into the beautiful California foothills. FAST-FORWARD a year into the project, WR has played some great shows in Los Angeles and Santa Barbara. One being most epic was playing for The Red Bull Grand Prix on Catalina Island. On their debut album "Three Sheets To The Wind," Winchester Rebel's sound has been favorably compared with influential '90's-era bands Alice In Chains, Danzig, Stone Temple Pilots and others. The guitars are heavy and the drums are
hard-hitting, the vocals on WR tunes such as "Private Angel," "Down," "Loaded Gun" and "Flying" inspire and carry the melodic sound of a band that demands to be heard. Winchester Rebels are a band on the rise whose time to shine is rapidly approaching. It's not a matter of if for these guys - but when.
Upcoming shows
None scheduled
Formed
2009, Santa Barbara, CA
Influences
Alice in Chains, STP
Current status
Recently nominated for "Rock Album of the Year" by the 2012 Los Angeles Music Awards.