Article Tools

Print friendly

E-mail story

Tip Us Off
Share Article
S.B. Brewery
Santa Barbara Brewing Co. and Restaurant
501 State St., 730-1040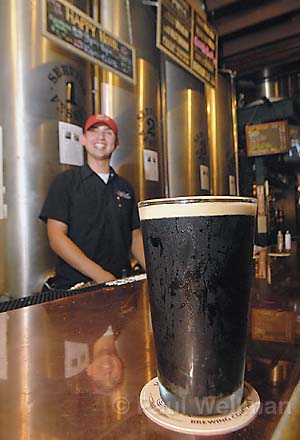 Many years ago, Europe lived on beer, a combo of the ubiquitous beverage and a grainy stew made from the ubiquitous beverage. Then came Budweiser, which almost destroyed the golden beverage's credibility. Fast-forward to today, and there are breweries in every cool American town, our own notwithstanding. Santa Barbara Brewing Co. makes brewski right in front of you in its fine restaurant, and the masterminds had the funny audacity to call their most popular beer Santa Barbara Blonde. Today, at the end of history, everybody is happy, especially if they can have some S.B. Blonde of their own.
Finalist The Brew House
S.B. Brewed Beer
Santa Barbara Blonde
Finalist Firestone Pale Ale
S.B. County Winery Red Wine
Sunstone Vineyards and Winery
125 N. Refugio Rd., Santa Ynez, 688-9463
"Yay," said boisterous bacchanalian Elizabeth Gunn-Baumann, who is very busy handling the winery's E-commerce, but managed to take a few minutes to talk to us. "I think this is the fifth win in a row. It's great. I also have to say I think it's the merlot everybody loves. We make a fantastic merlot because we grow it organically, which brings out the fruit," she said. "There are no additives to get in the way," she added, crediting owners Fred and Linda Rice, who began planting vines in 1989 and opened their wine tasting room in 1994.
Finalist Firestone Vineyard
S.B. County winery White Wine
Firestone Vineyard
5000 Zaca Station Rd., Los Olivos, 688-3940
"I would say that the award should go on the strength of all our white wines," said Firestone spokesperson Christopher Weir, not meaning to sound like he's avoiding the question concerning which one the readers mean. There has always been a big commitment to such white wines as gewürztraminer, chardonnay, and sauvignon blanc, the last of which, according to Weir, is enjoying particular popularity lately. But so have all the whites. "I think in the past five years there has been a renewal of interest by the Firestone family and its winemaker Kevin Willenborg. I think if you haven't tried a Firestone wine lately, you should. You will probably be surprised," he said.
Finalist Sanford Winery and Vineyard
Restaurant Wine List; Place for Wine Tasting
Wine Cask
813 Anacapa St., 966-9463
It's certainly more than a wine list or a shop — it's a central meeting place for the downtown movers and shakers. It's always been a Mecca for hot dates, and as caterers, the place oils high-end get-togethers admirably. But it did start out as a great wine store before all this foodishness became widespread. The collection of wine is fantastic and the pairing of drink with dinner is done on a post-graduate level by the experienced chefs and sommeliers. The Wine Cask lives up to its reputation.
Finalists Restaurant Wine List: Bouchon; Place for Wine Tasting: Sunstone Vineyards and Winery
Beer Selection on Tap
Zodo's Bowling
&

Beyond

5925 Calle Real, Goleta, 967-0128

There are 39 unbottled beers on the wall — and a cider — according to bartender Kerby Neal. That's just the tap beers; there are about a jillion bottled beers, too. She thinks Sunshine Wheat and Blue Moon, a nice little beer from Denver, are the current best, but that's just her taste. With seven domestic and 32 foreign brews from which to choose, you should probably go and make up your own mind. By the way, Neal is happy. "Isn't it exciting we won?" she asked non-rhetorically.

Finalist Santa Barbara Brewing Co. and Restaurant

Coffee House; Iced Mocha
Santa Barbara Roasting Co.
321 Motor Wy., 962-0320; 607 Paseo Nuevo, 962-2070