Candidates running for elected office need a thick hide to survive the campaign trail. Santa Barbara Sheriff Jim Anderson, now facing off against Lompoc Police Chief Bill Brown for a second term, seems not to have such a protective covering. "I'm disgusted with the whole thing," Anderson exclaimed recently. "I get mad just thinking about it."
It shows. After a candidates' forum two weeks ago, Andersona Lompoc resident for the past 40 yearsrefused to shake hands with his challenger, Brown, the police chief of his hometown.
At forums, Anderson questions whether a small town chief such as Brown has the experience to operate the Sheriff's Department, with its 700 employees, 1,100 jail inmates, and $86 million budget. And he increasingly attacks Brown's basic integrity and honesty. Brownpoised, articulate, and far more comfortable in public than his opponentcharges that under Anderson, department morale has tanked, relations with other agencies have soured, and the sheriff himself has become the object of public ridicule. Is this just another story about a rough battle between two candidates?
Perhaps, but in private Anderson tells a different tale. He talks almost exclusively about Jim Thomas, Santa Barbara's politically powerful former sheriff who opposed Anderson in the June primary but placed third. Anyone listening might easily conclude Anderson is still running against Thomas rather than Bill Brown.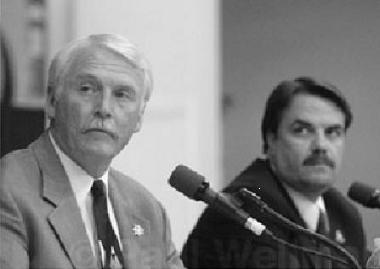 By Paul Wellman