Early this morning as I headed over to the fire camp at Live Oak I could see isolated pockets of fire on the front face of Little Pine Mountain, remnants of the massive 6,000 acre burn that raced up the back side of the mountain and over portions of the Buckhorn Road.
Though the flames may promise danger for local residents of the Paradise Road area, almost all of whom have evacuated, the speed with which the flames moved east up the drainage immediately north of Little Pine may actually prove a blessing: little brush remains on the backside to fuel additional runs down towards the Santa Ynez River.
Photo Gallery
Zaca Fire Continues East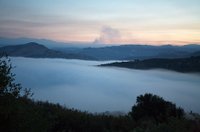 The flames, in excess of 200 feet at times, formed a huge plume that ate everything in its path. Within two hours the fire was threatening to cross Buckhorn Road, which it did in several places later in the day.
Today, weather forecasters predict winds shifting and this should not only help ensure the Paradise area remains safe but most likely will provide Santa Barbara some relief from yesterday's ash fallout. However, if the winds turn to a more northeasterly direction, additional pressure will be placed on hotshots in the Mission Pine Basin area.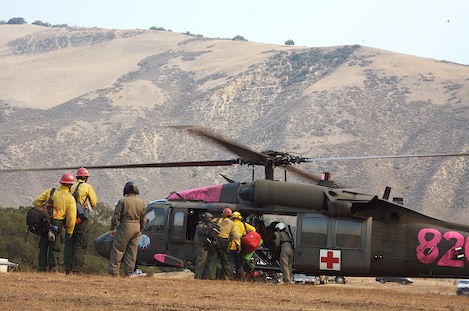 By Ray Ford