In a sign that fire command may not believe it can stop the fire from crossing the Santa Ynez River and moving to the front country, officials are looking into burning out a huge part of the Santa Barbara backcountry.
With high temperatures and low humidity predicted for the next three days, operations leaders decided are considering a strategy they hoped they'd never have to use: circling the entire fire boundary and burning back into it. This represents an expansion of the fire perimeter that could encompass an additional several hundred thousand acres.
At the morning cooperators meeting this morning, Incident Commanders Mark Schmitt and Bill Molumby told those present the burn, once started, would take 10-14 days and could begin on the north part of the fire line as soon as resources were in place and on the south side as early as Monday. County public information officer William Boyer, however, noted in a later interview that no decision has been made in the matter and that the back country burn was still only a move crews were considering.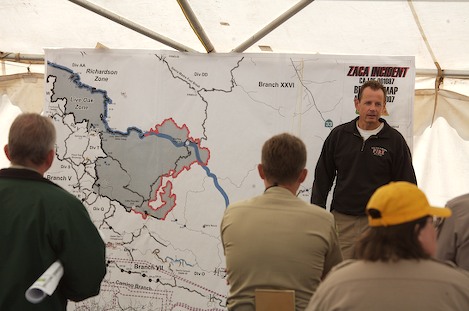 By Ray Ford