At the 12:30 pm news conference held today, Zaca Incident Commanders expressed a cautious optimism that they had turned the corner on the southern flank of the fire. Forty days after the fire began, and after a week in which Santa Barbara residents feared the worst, the leading edge of the fire appears to be turning northeast and into the wilderness.
Much of the credit for this is due to the tireless efforts of the hundreds of fire fighters out on the front line doing the hard work. But credit must also go to the long range planning initiated by the National Incident Management Organization (NIMO) from Boise, currently implemented by the two Type 1 Teams brought in last week.
The effort has not been easy. For the past week, using air attack to protect their backs, fire fighters have used direct line construction and burn out operations to build five miles of containment line from the Peachtree area to Little Pine Mountain.
"This has been a tough five miles," Mark Schmitt, the county representative on the Incident Management Team explained. "At one point, to finish off the last section on the east side of Little Pine Mountain, we needed to move a crew in place where the only way into the area was by rappelling down fixed ropes from helicopters.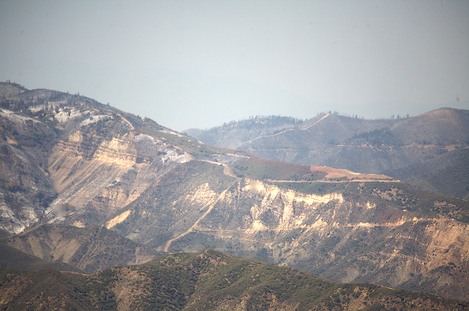 By Ray Ford