Dozens of people clamored outside of the U.S. Bankruptcy Court on State Street before 10 a.m. Tuesday morning, August 14, awaiting the start of the National Labor Relations Board's prosecution of the Santa Barbara News-Press for numerous alleged labor law violations. There were media types like blogger extraordinaire Craig Smith and members of the curious public, but mostly, the line forming was of subpoenaed witnesses, almost all of them former employees of the News-Press newsroom, such as former editor Michael Todd (pictured above).
Despite the fact that many of these folks are fighting for their jobs back - and plenty of back pay - the mood was jovial enough, much like a family reunion. Hugs and smiles abounded, for many former News-Pressers believe that the day of reckoning is finally here for News-Press owner Wendy McCaw. (Of course, she's expected to draw this out on appeals if not victorious, but that wasn't dampening the mood.)
All of the witnesses were ushered in first, which took nearly 45 minutes, meaning that the general public and some reporters were still waiting as the hearing's opening statements were unveiled. (According to earlybird Nick Welsh, who was already inside, the opening statements of the government prosecutors were mere reiterations of the charges.) By the time the leftover media did get inside around 10:30 a.m., Teamsters attorney Ira Gottlieb was finishing his opening, telling the same story that we've been hearing for months now: that reporters were reprimanded, fired, and otherwise mistreated for their union involvement.
And then it was time for the other side of the story, a different, reinterpreted, and less publicized version of events. This was the realm of slick superstar attorney Barry Cappello, who opened by criticizing the government's decision to lump the 15 charges together rather than breaking them up into separate cases. As an excuse for why he was about to give a longer opening than his opponents combined, Cappello explained that this hearing's "potpourri of items" amounted to "15 separate trials." Judge William Kocol assured, "If it gets long, be sure I'll let you know." And he did, multiple times.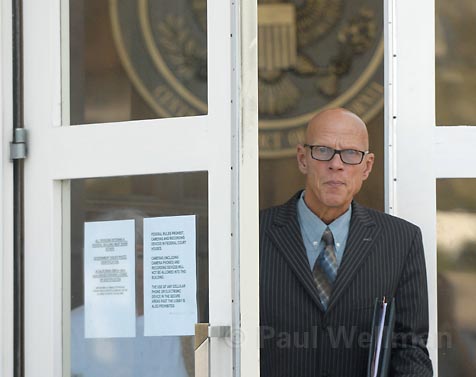 By Paul Wellman