There were occasional brushes with excitement in the U.S. Bankruptcy Court on Wednesday as the federal labor law case against the Santa Barbara News-Press entered the second day of proceedings. (See day one round-up here.) The bulk of the day was the continuing and consequential testimony of the paper's current associate editor Scott Steepleton, the man admittedly responsible for committing the acts - specifically the reprimanding and firing of unionized reporters - that brought the National Labor Relations Board attorneys to town. But the highlight was the testimony - other than the near derailment of the News-Press's entire defense - of the paper's former managing editor Linda Strean, who flew in from Oakland for the afternoon session and shed light on the way the once award-winning, reporter-filled newspaper used to function under Jerry Roberts.
The morning began with Teamster attorney Ira Gottlieb trying to get Steepleton to slip up. Gottlieb, who probably was surprised to see that his gray and pink tie matched Steepleton's nicely, showed the editor a photo of the overpass protest, had him read the various signs, and had him identify the people involved. That protest is what the union is claiming led to the firing of six reporters. Steepleton has not denied that, but has argued that they were fired for "disloyalty," and not their union involvement.
Gottlieb then moved onto the termination of Melinda Burns, who Steepleton says was fired for biased reporting. Going through Burns' performance evaluations, it was clear she scored highly, though there were steady mentions of bias creeping into her reporting. However, the evaluations tempered such statements by saying such was a typical trend for senior reporters who knew their topics well, that she was responsive to suggested changes, and that she was showing an improvement over the years.
Cited as one example in Burns' termination letter was an article she wrote on the Measure D transportation tax. A lobbying firm pulled a piece from that article, and used it in campaign mailers, which News-Press management believed was evidence of her bias. (Later testimony would explain that such is a common practice by lobbying firms.) Steepleton's stance was essentially that - despite no further written warnings from management - she had not changed her biases enough by October 2006, so she was fired after 20-plus years of work.
Steepleton's amount of "do not recalls" dropped substantially when the newspaper's attorney Barry Cappello (pictured above) started his cross-examination of the editor. Cappello used his time with Steepleton to paint a picture of a changing newsroom, one in which the owner Wendy McCaw would use a heavy hand to shape the news coverage and fire reporters at will to rid the newsroom of bias. And this, Cappello's line of argument goes, is perfectly fine, because business owners can do what they want with their products.
When asked to recall what Steepleton had said in a meeting with reporters when he took a leadership role, Steepleton replied, "We want nothing but a fair and balanced newspaper." When worried reporters inquired asked about the day-to-day involvement of McCaw - who had recently tried to kill a story about Travis Armstrong's DUI and punished employees for publishing Rob Lowe's address in a planning story, leading to the exodus of the paper's senior and experienced staff - Steepleton said, "She owns the newspaper, and I think she has every right to be a part of whatever she wants to be a part of."
The court gallery - which was peppered with scribbling reporters, some public watchers, and Cappello's crew of young assistants, laptop-using paralegals, and head-high document boxes - then got a rundown of Steepleton's career. Graduated with journalism degree from Cal State Northridge in 1986. Worked for Ventura County Coast Reporter 1983-1986. Worked in family business for a few years. Started back in journalism in 1990 at Paso Robles' weekly Country News, where he worked until 1996. He joined the News-Press in 2000 after a stint at the L.A.Times.
Then Steepleton's testimony trotted along. He told McCaw that the reporters "wanted to do what they wanted to do when they wanted to do it" and that she "would not tolerate it." He covered July 6, 2006, the day that Jerry Roberts left along with most of the management and senior staff. He described the newsroom "reorganization" and the performance review process and how, under new management, Steepleton himself would run all of the evaluations rather than leave it up to assistant editors. (No mention was made of the dwindling management staff.)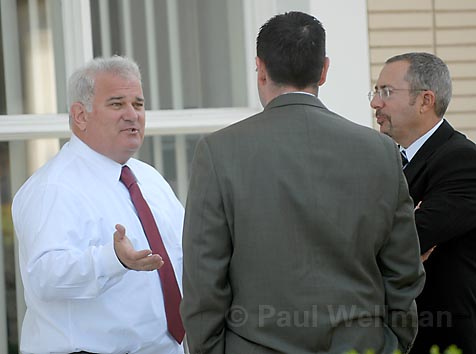 By Paul Wellman