Author's Note: Though the fire line continues to move away from Santa Barbara, there is still one critical battle to be played out in a little-known canyon called Agua Caliente. A few will know it as the site of the county's premier hot springs. Wealthy Santa Barbara patron George Owen Knapp discovered the springs a century ago and constructed an elaborate system of pipes from the source down to a small pool where his friends could bathe in the hot essence of the canyon minerals. Beyond the hot springs, the canyon meanders north towards the Hildreth ridge, then east to a high crest known as Monte Arido (the parched mountain) that separates Santa Barbara from Ventura. In its twisted way, the fire has made its way out of Indian Canyon, across Mono Creek and up over Hildreth into Agua Caliente. Over the past 42 days the fire has had its way with Santa Barbara County; soon we will know if Ventura County watersheds will feel its wrath as well.
_________________________
On Monday Incident Commander John Molumby encouraged fire fighters to put everything into the next seventy-two hours. "These are critical hours," he enjoined his troops as they headed out to battle the fire.
For the past week, the focus has been on holding the Zaca Fire along the north-trending Don Victor Jeepway that separates the Indian Creek and Mono drainages.
Not only would this push the fire away from Santa Barbara, but if they could herd it far enough north past Mono Narrows before it made its way across the drainage, Incident Command hoped it would continue its way northeast up Mono Canyon to a point where it would die out in the face of back fires being set along the Highway 33 and Potrero Seco areas.
Hot shots in Indian Canyon worked feverishly up a 1,500 high ridge to the Don Victor Jeepway and then down into Pie Canyon to cut off the fire from reaching Santa Barbara. Though their efforts were successful, the fire was able to make its way down to the Mono Narrows from further north.
"It's like a red tide," one fire fighter commented, "we catch it in one place and it flows over another ridge further back in the wilderness."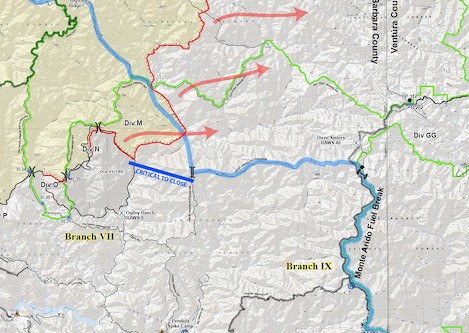 Forest Service