In the early afternoon hours the plume began to build and by 3pm, many Santa Barbara residents began to worry once again. Was this the time when the fire would come over the mountain?
As I looked out from my balcony towards the crest of the Santa Ynez crest, I couldn't help but be captivated by the huge plume that was building directly behind Mission Canyon.
Though I've been out on the fire lines for a month and a half, and know from firsthand experience the fire is always way further off than the smoke seems to indicate, I could feel myself caught up in the fear. What if it finally had broken through and was almost on us? Rationally I knew it was not the case: I'd just written a story this morning explaining the fire's location, the plans for back firing and the hopes for success.
Emotionally, I could feel myself drawn up to the mountaintop, to the smoke, and to the feeling that perhaps, this time, we'd lost it.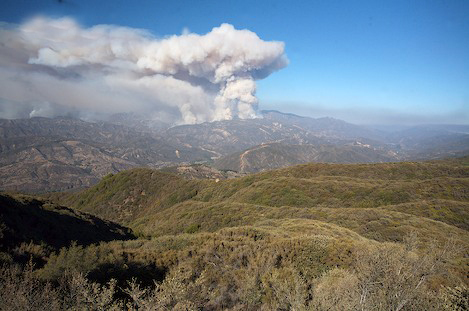 By Ray Ford