People used to turn up State Street from the traffic light on the 101 to get here. Mick Jagger and Jerry Hall shared a loving Valentine's Day here. GQ's Alan Richman praised the squab here-naming it "one of the year's most memorable morsels"-in 1995.
"Here" is Downey's, the legendary restaurant that turns 25 this year, and it's still the finest of fine dining in town.
But back in 1982, John Downey didn't think he'd make it to his five-year anniversary. "Those were insane hours, an insane workload-lunch and dinner [he stopped serving lunch more than a decade ago]. I did a fair bit of the bookkeeping. There was no computer. The menus were written on chalkboards :"
Some good early press brought in the crowds, and his fine food kept them there.
That is, until the recession in the early '90s. "As we approached our 10th anniversary, I remember wondering if we were going to make it," he recalled. While he currently owns the restaurant with his wife, Liz, he was in a different marriage then. "I didn't have family help on board. Running the whole thing by myself, if I messed up, I'd have to go home and fire me."
Downey said he almost gave up then-around the time he met Liz. "I didn't know any of this," she said to him. "You are stoic."
"I dug in and stuck to my guns. I stuck to what I seemed to be able to do well-I'm stubborn," Downey claimed. "Then Liz started working with me in the restaurant and that brightened things up considerably. She brought a lot of charm and care that had been lacking."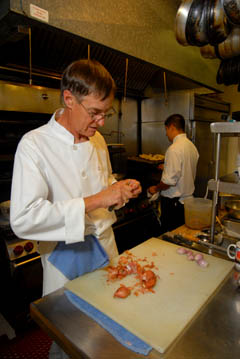 By Paul Wellman