At 8:30 on Saturday morning, the three chefs and general manager of the Hungry Cat drift into the small restaurant on the corner of Anapamu and Chapala streets and brew some coffee, pouring it hot and strong into clear pint glasses and using it to chase the chunks of bright orange Charlene melon they pass around. The restaurant won't open until 5 p.m., but today is Farmers Market day, and in a few minutes the team will pile into Chef Dylan Fultineer's Subaru station wagon with a hand truck and drive the 10 or so blocks to what is clearly their idea of heaven-the Santa Barbara Farmers Market. It's been fewer than six hours since Pete Destler, the general manager, locked the doors after closing on Friday night, but he looks happy. Compared to the night soon after opening-when the whole block lost power at 3 a.m. and he slept there so as to be ready when the electricity came back on-last night's four hours of sleep at home is no big deal.
The Hungry Cat shops primarily at the Farmers Market-a common enough practice in theory, certainly one with a long and healthy tradition in Santa Barbara, but still something that only perhaps 20 percent of restaurants actually do consistently. Fewer still do so with the focus and intensity of the Hungry Cat, which is the brainchild of David Lentz and Suzanne Goin, the Los Angeles chefs behind the Hungry Cat in Hollywood, and, in the case of Goin, two of L.A.'s most celebrated restaurants, AOC and Lucques. It's certainly much easier to accept delivery on more standard produce, and, as Lentz told me, "You do pay a premium-the idea that the Farmers Market is cheaper is a myth," but the philosophy at work here says the extra effort is not just worth it, but is a big part of what the restaurant is all about.
Fultineer, grill chef Patrick Mullins, and sous chef Mike Coan moved here from Chicago, where they worked together at Blackbird, another hip, informal but fine-dining bistro. They are in such good spirits, despite working a grueling succession of 14-hour days, because, as Fultineer told me within the first five minutes of my meeting him, "We are so lucky! Sometimes we just look at each other and shake our heads in disbelief that we are getting the chance to do this." With the oldest members of the team still younger than 30, the Hungry Cat presents an intriguing question. Can a team this young compete against the likes of John Downey, who's been doing this for 25 years, or bouchon's Josh Brown, another prodigy who may be just as young but who has experienced owner Mitchell Sjerven close at hand every night?
Lentz and Goin have paid the people in this crew the ultimate compliment of handing them the keys, and, standing with them before they go out shopping, it's obvious from their energy that they know it's the chance of a lifetime. In a cooking contest where the prize is shopping for more food, these guys feel like winners. After willingly sacrificing both sleep and fun to work long hours six nights a week in a tiny, hot kitchen, they revel in the early trip to the market, eager to chat with the farmers, while searching for exotic herbs and vegetables. As good as it feels, given the high stakes and the ultra labor-intensive course Lentz and Goin have set for them, it will be very interesting to see how they hold up.
Prodigies and the New Paradox
Seemingly from time immemorial, the gulf that divides successful chefs from anonymous kitchen help has been defined by a rigorous system of apprenticeship. Fierce hierarchies rule in the kitchens of so-called serious restaurants. New people come in at the bottom, and only gradually work their way up. While this system still exists, the explosion of interest in fresh food and competitive, physically demanding cooking has created new challenges and new opportunities in the restaurant world. A phenomenon-the prodigy chef-that was once rare has become increasingly common, and some really outrageous new wrinkles, such as the boy sommelier, have appeared. Destler tells me that Eric Railsback, the beverage manager and director of the wine program at the Hungry Cat, who's in France now for a harvest research trip, has the best palate he's encountered in 15 years-and Railsback is 22!
Behind all this precociousness looms a secondary phenomenon that may, in the long run, be just as important, which is that there are more and more people like Lentz and Goin with the clout, reputation, and ambition to open new restaurants where they allow these young chefs and sommeliers a chance to show their stuff. In a world where, for a long time, it felt as though the ranks were thickly settled and difficult to ascend, serious cooking suddenly looks like a career wide open to talent.
1134 Chapala St, Santa Barbara, CA
805-884-4701. More Info
The restaurant business is deceptively simple: You buy food, fix it up, and then sell it for more than you paid for it. But, oh, the heartache that has come from this misperception! When you think about the idea that it could possibly be easy to take something as volatile as food, prepare it professionally, and then vend it (often from an expensive location) to a customer who has no incentive to return other than the quality of the product, it doesn't sound so simple. Of all small businesses, restaurants are the most likely to fail, and most likely to do so in their first year.
So why would Lentz and Goin-two of the most sought-after personalities in America's current fascination with chefs-bother opening a small place on a supposedly "cursed" corner in Santa Barbara? (Lentz takes the supposed curse seriously, and said, "Believe me, we burned a lot of sage.") Add to this the fact that the couple had their first children-twins!-this year, just two weeks before the restaurant opened, and the mystery deepens.
The answer lies somewhere amid the bewildering array of signs that America's relation with food and restaurants has undergone a fundamental shift, a shift that has, for the moment, produced something of a paradox-the informal fine-dining experience.
Meet Us at the Market
Down at the Farmers Market, Fultineer and team are making the rounds, loading up the hand truck, paying the vendors, and storing everything in an inconspicuous spot behind the stand of their favorite farmer before hauling it all out to the car. Trailing along with them, I feel as though my perception of the market has been sharpened; every time I see another hand truck, I know it's likely to be another professional chef. Look, there's Ashley from Duo Catering; there are the people from Square One.
As the animated conversations multiply around me, so do the morsels I am being handed to try. At first they're familiar things, like tomatoes. Coan seems to have an eye for the tasty ones, and while we are chatting with Seth Kunin, who put up the chefs when they first moved to Santa Barbara, one of the ripe ones explodes out of Mullins's mouth, splattering Fultineer with juice and seeds.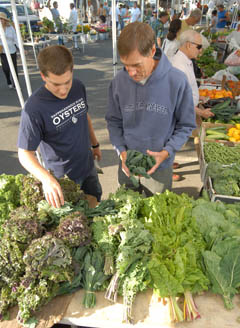 By Paul Wellman