Christ Following Group: Uffizi Mission Project
Activity Attended: Meals with Friends Without Homes; Wed., 5:30 p.m.; Pershing Park
Founder: Jeff Shaffer
Denomination: Open to all; based on the gospel
Group Size: About 45
Special Offerings: Numerous opportunities for mission work, get-togethers, and discussion groups. Email syncmanatns@aol.com for more information.
Jeff Shaffer was at the Uffizi Gallery in Florence when he felt called to change the way he shared the gospel with his community. A pastor at Community Covenant for 14 years, Jeff was standing in front of Boticelli's "The Annunciation" when he had the realization that he needed to start "a different kind of church."
"I thought, Jesus didn't have a building people had to go to; he was out on the street, where the people were," Jeff said. Upon returning to Santa Barbara, Jeff decided to literally follow his example, bringing his experience with Christ to the streets of his community.
The goal of his church - which he appropriately calls Uffizi - is simply to help wherever help is needed. Although the fledgling group has its work cut out for it in helping Santa Barbara's large homeless population, Jeff also hopes to reach "street kids, gangs - the places no one else goes," he said.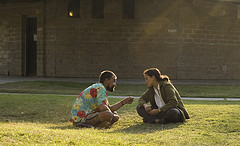 Chris Broomell