While I sat with Branch Director Mark von Tillow on the Sierra Madre crest watching the final "button up" operations on the Sisquoc end of the fire, the backfire operations along Highway 33 provided fire fighters with lots of drama and plenty of fireworks.
Throughout the week efforts to burn out a quarter-to-half mile band along Highway 33 from Pine Mountain summit down into the Cuyama Valley to Ventucopa has gone exceedingly well. On Wednesday, I watched as the helicopters moved slowly north from Ozena Station to Rancho Nuevo Canyon lighting strips of brush on fire, I thought this part of the fire line would be secured by Friday.
Wind conditions had been perfect, the fire line was moved slowly north, and with only two more miles to the point where the containment line veers northwest up Brubaker Canyon, the fire almost seemed over.
It turned out, as a safety officer told me on Wednesday, that this last section would be a tough two miles. "The canyon is really narrow," he explained.
"Then not too far beyond is a series of twists and turns in the canyon and switchbacks beyond that. And the winds get really squirrelly too. There's a side canyon on the south side we need to burn out and when the wind gets into the bowl up there it can go every-which-way."
In addition, the hills on both side are very steep, with the ridge on the south side more than 1,000 feet above the canyon and on the north side the elevation gain exceeds 2,000 feet where it rises up to the 5,878' Cuyama Peak. "There are plenty of opportunities for the fire to spot across canyon," the officer added.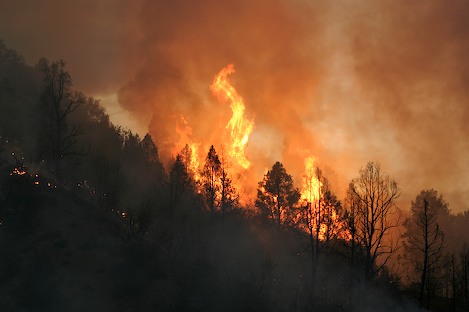 Courtesy Forest Service