Days four and five of the National Labor Relations Board hearing against the Santa Barbara News-Press rolled along last week, with a few moments of excitement scattered amid a tedious two days of testimony and paper-shuffling. The government called four people to the stand Thursday and Friday, including Melinda Burns-the first of the fired News-Press reporters to testify. More than a dozen charges have been filed against the paper, including those from the eight reporters who lost their jobs for alleged disloyalty and are seeking reinstatement with back pay. Should the News-Press be found in the wrong on the other charges-several of which have to do with alleged bans, threats, surveillance, and intimidation-the newspaper's management will be forced to concede activities they had forbidden should have been permitted.
Burns's appearance was preceded by that of former assistant city editor Bob Guiliano, who was on the stand for much of Thursday and most of Friday morning. Guiliano first answered questions from NLRB attorney Steve Wyllie that seemingly contradicted earlier testimony from current News-Press Associate Editor Scott Steepleton, who had said under oath that he didn't recall who wrote a "staff report"-bylined story in a January issue of the paper that detailed an NLRB hearing from a day on which Steepleton himself had testified. But Guiliano, whose termination from the News-Press was described as "performance related," testified Thursday that Steepleton wrote the story after former reporter Leana Orsua backed off, telling Guiliano she was overwhelmed and couldn't write the story. "How can I report that my boss was lying on the stand?" Guiliano recalled Orsua as saying.
This isn't the first time Steepleton's testimony has been questioned. Administrative law judge William Schmidt-in his March decision to reject objections raised by News-Press management and approve newsroom employees' September 2006 33-6 unionization vote-characterized Steepleton, along with Armstrong, as extreme embellishers.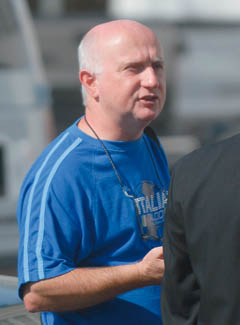 By Paul Wellman