Sunday, July 8, 2007. 6 pm.
Vital statistics: 7300 acres burned; cost $5,100,000
Zaca Fire continued its steady move toward the San Rafael Wilderness overnight, with flames reaching within a half-mile of Manzana Creek.
"We've had an inversion layer covering most of the lower Manzana with smoke," Rich Phelps, a Forest Service spokesman at the Incident Command Center, told me, "so we aren't sure how close it is to the creek right now."
"It's a whole other ballgame should it cross the Manzana," he added. "There's nothing to stop it once it reaches the Hurricane Deck area."
Earlier this morning, conditions had been favorable: lower temperatures, less wind, and higher humidity. Thus far the fire has been fuel driven, with huge amounts of brush being consumed as the burns its way through chaparral that's been untouched since the 1966 Wellman Fire.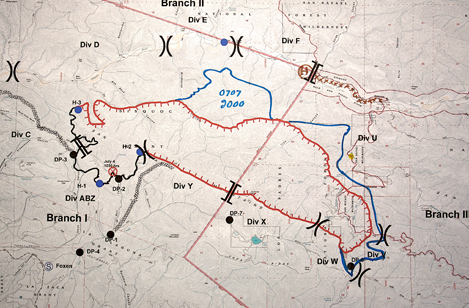 Forest Service