Church: Trinity Episcopal Church, 1500 State Street
Service Attended: Sunday, 10 a.m.
Reverends: Mark Asman (Rector), Eva Cavaleri (Associate Rector)
Congregation Size: 1,100
Special Offerings: Centering Prayer meditation group, Wed. 5:15 p.m., childcare and Sacred Arts Summer Camp; community service ministries; Healing Eucharist, Fri., 10 a.m., with several weekly Holy Eucharists; silent interfaith vigil for peace, Thu. 5 p.m., State and Micheltorena Streets; Trinity Backstage concert series; book group; volunteer choir
Contact: 965-7419, trinitysb.org
Bright sunlight filtered through the intricate stained glass windows as the downtown Trinity Episcopal Church slowly filled nearly to capacity with people of all ages, most of whom wore name tags bearing the words, "Open minds, Open hearts, Open doors." The accuracy of these words was immediately clear from the diversity of the congregation and numerous extended hands, but it became even more apparent during the service when congregants were asked to greet and offer peace to their neighbors. This ritual - confined to a compulsory handshake at many services I've attended - went on for a solid ten minutes, with parishioners freely moving throughout the pews to introduce themselves to new faces and chat with old friends.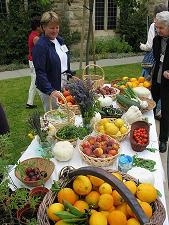 Hannah Tennant-Moore