This year, for the first time in human history, more people will live in urban areas than in rural lands. Though the tipping point will most likely be reached-or perhaps already has been-without fanfare, its significance cannot be overlooked. With this new age comes a whole new set of rules, values, and views that threaten to leave many of our most celebrated traditions behind as we work to reconcile past methods of survival with a less agrarian lifestyle. Here in the United States, with the ever-growing beast of urban sprawl spilling from cities toward the horizon, the rural, agricultural spaces that were the societal backbone of previous generations are fast becoming zigzags of highways connecting suburbs to shopping centers. This is not to say that agriculture is dead, but as time passes, the people doing the hard work of growing our produce and raising our cattle are becoming fewer and fewer, their lifestyle incompatible with the slow and steady mastication of development.
Thank the Williamson Act
Right here in Santa Barbara County is a storied and vital community of ranchers and farmers with their backs to the wall, doing daily battle with drought, soaring land values, and developers clutching checkbooks in their smooth, uncalloused hands. Say what you will about movie stars, pretty faces, and red tile roofs, but Santa Barbara is and always has been an agricultural town. Beyond the glitz of State Street and its restaurants and world-class shopping lies a massive patchwork of rangeland, open space, and centuries-old farmland, every acre of it currently in a fight for survival. Last year, just as it has been every year since the Mission bells first rang, the agriculture industry was the number-one money earner in the region, bringing in more than a billion dollars to our local economy. From grapes to avocados to cattle, the land provides for the county in a way that film festivals, revamped State Street sidewalks, and oceanfront dining can only dream about.
While the drama of developers versus agriculturists has played out through much of the Southern California landscape, here in Santa Barbara County the march of development has until recently stayed away from much of our interior and northern boundaries. No doubt fortified by the hard work of families-many of whom have been working their land for generations-and extensive zoning regulations, the single best tool Santa Barbara County has had against the invasion of the newly built is the Williamson Act. Created in the 1960s, this state-run program offers massive property tax breaks to cattle ranchers and farmers in exchange for their surrender of certain development rights on their property. With nearly three-quarters of all the privately owned open space in the county protected under the Williamson Act, residents can thank this legislation for the soul-stirring views they enjoy each time they get north of Winchester Canyon or east of San Marcos Pass.
Administered by the state's Department of Conservation (DOC), Williamson Act contracts-which landowners enter for 10 years at a time and have an annual option to extend-get the nitty-gritty of their enforcement from county-issued codes called the Uniform Rules. Each county has a choice about the particulars of its own rules, which dictate what constitutes acceptable development of Williamson Act land. Right now, for the first time since 1984, Santa Barbara County is engaged in a particularly brutal battle to update said codes.
Ironically, despite the fact that all parties involved agree that the Uniform Rules need an update to reflect the many changes in local ag since the 1980s, the approval process for the revisions has stalled indefinitely. Superficially, this delay seems to be the work of South Coast enviros, but upon further investigation the gridlock appears also to be a side effect of a much deeper rift within the ag community.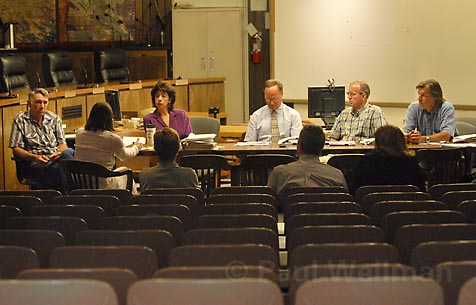 By Paul Wellman