On an inconspicuous spring evening in Carpinteria, night hadn't quite settled in. As the sky grew darker and the air assumed an edge of chill, the town's sleepy streets lay empty, hushed. On the steps of the Veterans' Memorial building, large arrow signs pointed toward the doors, asking the question: Do you need prayer?
Light poured from the hall's entrance. Inside, I could see the building's high, wood-beamed ceilings and clean tile floors. Sound equipment covered the far left wall with wires snaking across the floor to two large speakers. At the front of the center aisle stood a wooden pulpit.
Seated in rows of folding chairs, the working-class audience was composed of mostly women dressed in faded house dresses, jeans, and T-shirts, their hair pulled back with scrunchies. The few men-who wore weathered, plaid, button-up shirts and polyester slacks-fidgeted and shuffled their feet. Most had their well-worn bibles already open on their laps, with split bindings and finger-smudged pages.
In the front row sat a more finely dressed group in jewel-toned, sequined gowns and black, pressed suits. A short, vigorously cheerful woman in a twinkling red dress walked about, greeting each person. As the clock struck 6 p.m., the shuffling died down and the crowd focused on the silver-haired man sitting quietly in the front row: the Christian prophet and miracle healer Phillip Gladden.
Searching for God
For as long as I can remember, I've called myself a Christian. But it's a word with which I have a bit of a love/hate relationship. I'm like that guy terrified to tell his girlfriend he loves her, even if he truly does. I hold back. An instinctual urge to flinch sweeps over me every time the word comes out of my mouth.
And it doesn't matter to whom I'm talking to. If I say it to non-Christians, I imagine all the times they've seen the Bible-thumping televangelists and screaming, hate-filled pro-lifers. If it comes up in conversation with fellow Christians, especially those I don't know well, I feel just as bad. Have they themselves helped damage the reputation of Christ's followers? If so, do they automatically assume, because of one simple word, that I am in their club?
But perhaps most frightening to me is the all-too-common Christian syndrome of simply slipping into a life that is comfortable. Like the mother who sends her children to Christian schools so they can be surrounded by "people like them," will I one day wake up to realize I've turned my back on the underprivileged, undereducated, and unloved people of the world? And aren't those the very people whom I, as a Christian, should be turning toward?
My spiritual quest, though less sophisticated than it is now, began when I was very young. I was raised in a traditional Catholic home until the age of 10, when my spiritually restless mother decided it was time to do something about her Christian wanderlust and ventured into the uncharted territory of nondenominational, evangelical churches. I remember hearing the protests from my father and her parents-"You're abandoning your faith!" they'd shout. Nevertheless, she spent the next four years of our lives searching for an authentic religious experience.
Despite my frequent embarrassment, I was her spiritual sidekick. Sundays would find us on Watt Avenue in the downtown part of Sacramento that was neither well cared for nor much cared about. Some weeks we'd sit cross-legged on the dingy living-room floor of a young pastor with a congregation of 10. Others, we'd crowd into a dimly lit Holiday Inn conference room, where limp bodies would be carried to the front of the room to be prayed over the way adrenaline-pumped teenagers would crowd surf at a punk concert. Throughout it all, I kept quiet and stayed as close to the exit as possible.
And yet, as I got older and my family life went from bad to worse, I, too, found myself longing for security, something more certain than my parents' marriage. I already believed in God, but for the first time in my life, I needed to know God believed in me. Like my mother, I went looking for God. And like my mother, I found Him.
But with my discovery came some gut-wrenching questions. What did I have in common with those glassy-eyed church leaders professing to have all the answers? Like that preacher, I suppose I was looking for answers of my own. And yet the very religion with which I aligned myself pronounced faith, not proof, supreme. Would I be able to embrace Christ's radical love in a world with more blind alleys than lit pathways, more questions than solutions?
These were the quandaries for which, after four years of study at Westmont College, I still didn't have the answers. It's no wonder that when Gladden's press release crossed my desk at The Independent, in which he claimed to hear God's voice, speak God's words, and heal the sick, my curiosity was piqued. Here was my chance to face my fears head on. So I called him up and, as it turned out, set about on a year-long journey into the world of Phillip Gladden.
And God Spoke
The first thing I wanted to know from Phillip Gladden was how God's voice sounded, as he had long been claiming God spoke to him as His chosen prophet. And in the many conversations I had with Gladden, who spoke to me by phone from his home in Ione, California, he frequently started sentences with "God told me this morning when I was at the gym :" or "God said to me :" I was interested to know just how Gladden heard God's voice. "I'm not saying God thunders with a big megaphone and says, 'I'm God. Can you hear me?'" he explained. "See, there's a difference between an audible voice and the voice of the spirit in your spirit just knowing."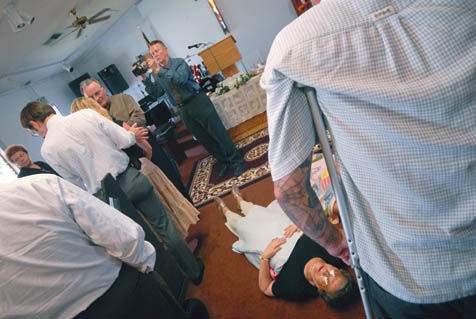 By Paul Wellman