Welcome to the final week of voting for the Almost Independent writing contest. We've slowly whittled away contestants over the past few weeks to arrive at our final pair: Jessica S and Kevin. Voting took a surprise turn last week with the elimination of Jessica H., who had appeared at the top of each previous week's results. In her place in the final two is Kevin, whose numbers made a considerable jump last week, as he took a whopping 45 percent of the vote.
Being the last week of competition, we decided to end this final round with a bang. Look below and read the final three samples from Jessica S. and Kevin. Both attended last Thursday's Incubus show at the Santa Barbara Bowl. We figured what way to better compare the final two's writing abilities than to have them experience the same concert and then place their reviews side-by-side? (As an added plus, you're reading these reviews early. The non-internet-savvy won't see these reviews until they pick up Thursday's issue Independent.
Also, be sure to check out the final online assignments as well. The first tests the contestants' creative mettle by having them review a fictional show - by a fictional band that happens to be called Drew Mackie and the Macaroons - and then strains their tact by having them "politely bash" it - that is, perform the delicate tightrope walk between giving a bad review and sounding like a jerk. In the final online assignment, Jessica and Kevin both look back on this contest and talk about what they might have learned - about themselves, about music writing or about competition in general.
Remember, the polls will be open until 5 p.m. on Friday. Make your vote count and check in at the end of the week to find out who has won a staff writer position here at the Indy.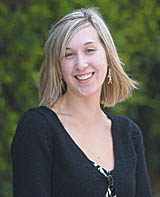 By Paul Wellman