With the beloved Santa Barbara Bowl out of commission, followers of KJEE's annual Summer RoundUp were directed to the gates of the Ventura Fairgrounds for a coastal reincarnation, dubbed the Seaside Beach Ball. But despite the sorely missed Bowl, stellar performances by Cold War Kids, Queens of the Stone Age, and Chris Cornell saved the day.
The first surprise came from Cold War Kids, a group of blues-ridden indie rockers from Fullerton who gained an unlikely following from the blog community. Their performance showcased the best of their one and only full-length release, Robbers and Cowards.
Shiny Toy Guns were up to bat next, but unfortunately, some crippling technical problems turned the band's hard-edged electroclash rock into a tired pop-punk set. Frontman Chad Petree handled it well, and, technical issues aside, selections from their latest release, We Are Pilots, still sounded great.
Next were The Bravery and Sum 41, who received a polite response at best, as the crowd seemed to be waiting for something. It didn't take long to realize Queens of the Stone Age were the heroes of the day.
The Queens' performance marked their first show since their Lullabies to Paralyze tour two years prior. "Turning on the Screw," "No One Knows," and "Into the Hollow" washed over the crowd beautifully, and the new single "Sick, Sick, Sick," which frontman Josh Homme described as "a song about you people," built into the climax of the set.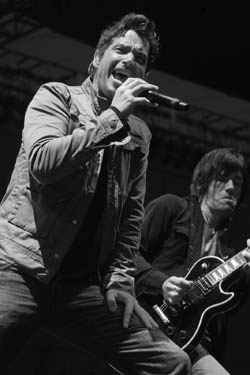 Tim Bramlette