About five years ago, Roger Durling was named the head of the Santa Barbara International Film Festival. In the years since, he's elevated the festival to be one of the industry's most exciting and star-studded. Earlier this year, Durling's success was internationally recognized when the Cannes Film Festival - the world's most prestigious gathering of filmmakers, actors, and everyone else - asked him to be the programming director for the American Pavilion, which showcases the best entries and talent from the United States. So Durling is there now, along with SBIFF's Jeremy Platt as well as Carol Marshall and Alanna Kordell, from Carol Marshall PR.
For the past couple years, Durling has penned the "Big Picture" column for The Santa Barbara Independent, and he graciously accepted our invitation to relay his experiences at Cannes this month for Independent.com. When he returns at the end of the month, we'll also be publishing an overview of his experience at Cannes in the printed edition of The Independent.
What follows is a selection of Durling's blogging from Cannes through Monday, May 21, the entirety of which can be at sbiff.org/blog2. Tune in later this week for more at Independent.com/cannes.
La Croisette, May 15
Today we got our badges for the Festival, and I cannot describe in words my excitement. The famous Croisette - the boardwalk - in Cannes is gorgeous. The festival does not start officially until tomorrow but the energy is here - very palpable.
So What Have You Been Doing the Past Few Weeks?, May 15
I've been pretty quiet, and some people have been wanting to know what exactly my job is here at the American Pavilion at Cannes. Basically, I have to help put together panels and conversations while the big Festival is happening. The line-up, which was released yesterday to the trades, consists of conversations with Michael Moore, Wong Kar Wai, Norah Jones, Harmony Korine, Rupert Everett, and Colin Firth, among many others.
If you're a true film lover and like film festivals, then you must make it to Cannes at least once in your life. This is a once-in-a-lifetime experience. You can actually feel the film-geekness in the air. You could cut it with a knife.
The Pavilion is buzzing with excitement and students - everybody working hard to make the opening schedule of tomorrow morning.
The weather's been spectacular. Sixty degrees and sunny. I had been hearing for months about how similar Cannes is to Santa Barbara - and yes, they're right.
Am I still excited? Boy oh boy! I'm bursting with excitement. Tomorrow is opening night!!!!!!
Opening Day, May 16
So the Pavilion's open. I have Jeremy Platt coming shortly to help me out, and two student interns under my charge also. The weather this morning couldn't be better. The crowd around the red carpet across the Pavilion has already started arriving.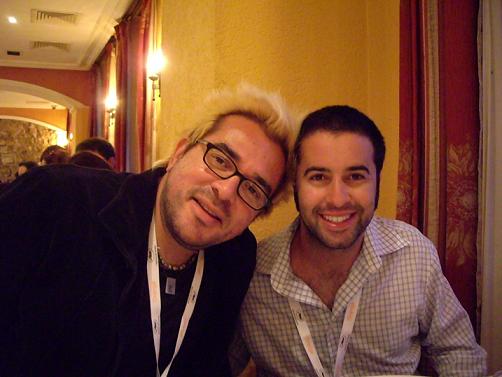 Carol Marshall