Fire season started with a whimper this afternoon in Santa Barbara County when, at about 2:45 p.m., a brush fire began at the top of the Nojoqui Grade right next to Highway 101. The afternoon wind was just picking up, so the flames were being pushed into oak trees and downhill toward the flat farmland adjacent to the Nojoqui Falls Park turn-off.
Photo Gallery
Nojoqui Grade Fire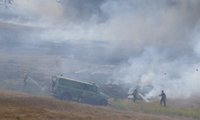 Here are some photos from the frontlines of the battle to quell a vegetation fire on the Nojoqui Grade, adjacent to Highway 101. Photos by Matt Kettmann.
The smoke was visible from Buellton, a couple miles north, but the traffic on southbound 101 flowed freely. On the northbound side, traffic was also still flowing, despite flames being nearly on the blacktop. On the road leading toward Nojoqui Falls Park, the residents of the nearby ranches were a flurry of activity, understandably concerned that any brush fire in this tinder-dry season could explode to something catastrophic. That's why the fire trucks arrived almost immediately, including five engines from County Fire, one engine and crew from the Los Padres National Forest, and a large dozer.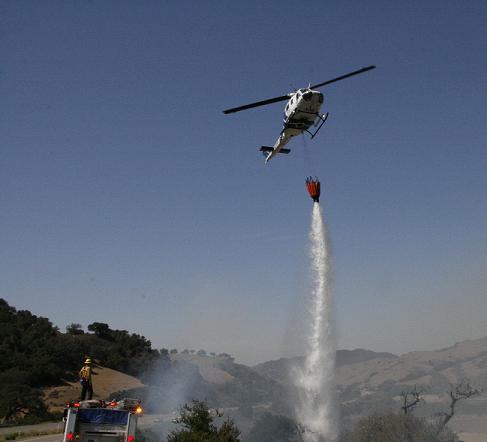 S.B. County Fire Dept.