Friday night reading: After an opening sage burning, Sandra Alcosser speaks for at least 15 minutes before she gets to a poem. She continues to speak more than she reads, including a had - to - out - the - oven - mitts - when - a - hawk - crashed - through - our - window story. The poetry blends nature and culture. From "Sweat":
Babies have been conceived on sweat alone-
the buttery scent of a woman's breast,
the cumin of a man.
In response, Sherman Alexie starts out noting how "hot" Alcosser is. His "Avian Nights" begins:
Starlings have invaded our home and filled
Our eaves with their shit-soaked nests.
But then it goes places like this:
Our son almost died at birth. His mother
And I would have buried him in silence
And blankets that smelled like us. These birds
Don't believe in silence. They scream and wail.
Later, Alexie shakes his head after remarking that a local paper has characterized him as the only one of the poets who is not an environmentalist. "Fucking liberals : I'm an Indian : I am a natural resource : Save my ass."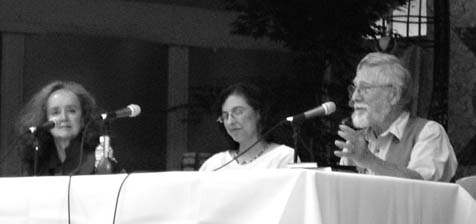 Beth Taylor-Scott