A 23-year-old man found September 17 in a sleeping bag, dead from a bullet wound to the chest, along Highway 154 is connected to a large marijuana plantation discovered about 15 miles away, the production of which has been tied to a large drug cartel, Sheriff Bill Brown announced at a press conference Wednesday.
With a huge pile of plastic bags filled with more than 800 pounds of marijuana sitting in between him and the media, Brown tried to untangle the mixed web of recent events, all coming as a result of investigations which have taken place over the past month. According to Brown, when the body of Adan Ruiz was found at 4 a.m. along Highway 154 about a mile east of Highway 101 detectives were able to quickly determine he was killed in a different location about eight hours earlier.
A week later, on September 24, deputies responded to reports of a suspicious person along Highway 1 outside of Lompoc, and found a man with a backpack full of marijuana. A helicopter discovered a large marijuana grow on both sides of Highway 1 along where the man was walking, including on the ranch property of Jim Poett, husband of Independent editor-in-chief and co-owner Marianne Partridge. (The property owners of the land on which the grow was found aren't involved in the operation, Brown reconfirmed Wednesday.) The more than 90,000 plants at this grow, the largest uncovered in Santa Barbara County history, were eradicated and buried over the next three days, but more importantly opened up a door for investigators looking into Ruiz's murder.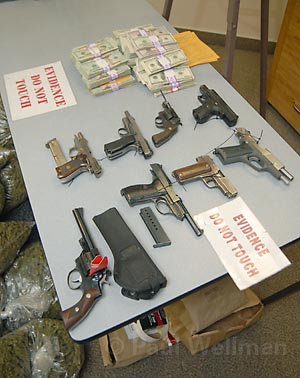 By Paul Wellman