The UCSB men's soccer team will begin postseason play on Wednesday, November 28, with one goal: repeating as NCAA champions. Yet somewhere in the back of the players' and coaches' minds will be the memories of the team's summer training trip to Argentina, the home of the original gaucho, a cowboy of the South American plains.
One year ago, the UCSB Gauchos defeated UCLA 2-1 amid a St. Louis snowstorm to win their first NCAA Championship. The title was only the university's second overall (men's water polo, 1979), and perhaps the greatest single triumph in Gaucho athletics history. UCLA had entered the match seeking its 100th NCAA Championship.
In June, the Gauchos traveled to Washington, D.C. to accept congratulations from President George W. Bush at the annual Champions' Day at the White House. Two weeks later, they were in Argentina, where no one has ever heard of NCAA Division I athletics, or can imagine why an American university would ever call itself the Gauchos. The Gauchos' time in Argentina would present them with new sources of adversity and provide them with a sense of perspective that championship teams must develop if they are to have any hope of repeating.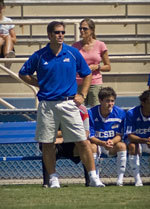 Tony Mastres