Cameron Douglas, son of actor Michael Douglas and grandson of actor Kirk Douglas, was in Santa Barbara Superior Court Thursday at a preliminary hearing on a charge of possession of cocaine. After listening to testimony from Santa Barbara Sheriff Dept. James McKarrell, the arresting officer, Judge Joseph Lodge decided that Douglas could also face an under the influence of cocaine charge, should the defense seek to add it.
The preliminary hearing lasted less than two hours, and featured only one witness, McKarrell.
Douglas - who has appeared in a few films, including one with his grandfather and father - was present, along with co-defendant Christopher Lane. Testimony revealed that at about 2:15 a.m. on July 22 of this year, Lane and Douglas were in sitting in a BMW at Sandyland Reef Motel in Carpinteria. According to McKarrell, he and Senior Dep. Michael Harris drove into the parking lot and observed the vehicle, with Douglas in the driver's seat and Lane in the front passenger seat, parked in an odd place for the tight parking lot configuration. McKarrell testified that the deputies stopped to make sure the passengers didn't need assistance, and when he approached the vehicle, noticed "really fresh" blood on Douglas' hand, as well as smeared blood on his arm. He described Douglas, who provided an out-of-date Bermuda license and a passport, as "a little edgy and nervous." Douglas allegedly told the officers he had a girlfriend staying at the motel.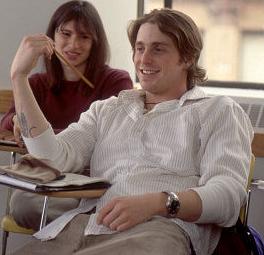 MGM