Racism - it's society's most popular problem. Racism has continued to perplex even the most brilliant of students and educators. Exasperated sighs and frustrated expressions followed just about everyone I spoke with on possible solutions. Has the answer bank fallen empty on an endless issue? Has the problem grown so old that we've become bored with it? Is there an answer?
In comparison to other high schools, Santa Barbara High does not have a history of hate crimes or an outspoken problem with racism. The student body at my school is nearly equal in its Hispanic and Caucasian percentages as the county reported in Fall 2006, yet the majority of upper-level classes are filled with light-skinned faces. This issue has garnered attention as of late, and everything from student surveys to administrative trainings has tried to explain the phenomenon. If the question is why certain students are in certain classes, who better to ask than the students themselves?
Most students seem to think that the reason for the racial and academic divide is because of parental pressure. One Mexican-American student told a story of visiting a Hispanic family where the mother was unconcerned about her seven-year-old son's whereabouts, assuring, "He's outside playing. He'll be fine." The student was surprised at the lack of parental concern and noticed how often this occurred in families he knew.
When expectations are missing from students' lives with no one pushing them to succeed, why would they? The solution is individual attention and support from people outside of the home environment, like teachers and counselors. However, the same student stressed, "Don't assume someone's background because of how they look," as "everyone has a different situation." Simply because someone is a minority does not mean that they are receiving inadequate support from home, as it could occur from other sources.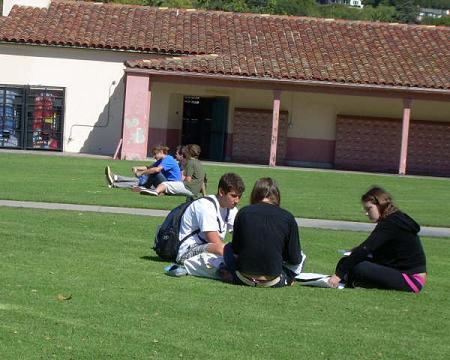 Amy Chong