The noble sport of lawn bowling has a long and aristocratic history. Played by English notables as diverse as Sir Francis Drake, Sir Walter Scott, and Oliver Cromwell, it has featured in several historical legends from other parts of the world, as well - including one in which an Inca king was killed by a bowl thrown in anger by one of his subjects.
Although most lawn bowlers would disagree that the sport is almost the same as bocce ball, the major difference is simply that lawn bowling balls are weighted to one side and also known as "bias balls" whereas bocce balls are uniformly weighted. Lawn bowling essentially consists of rolling a ball along a grassy green towards a target, the "jack," and attempting to get as close as possible; the many variations on this theme have been explored, in detail, in a number of written treatises.
The authoritative book, at least according to the book itself, on the topic of lawn bowling in the United States is the aptly if unimaginatively titled The American Lawn Bowler's Guide. Not to imply that lawn bowlers in general lack imagination; on the contrary, describing the sport in terms of "its fabulous history, its fascinating lore, and its grand old traditions" seems to display creativity and imaginative scope far beyond the norm.
On the other hand, who are we to argue? After all, 91 Santa Barbarans can't possibly be wrong.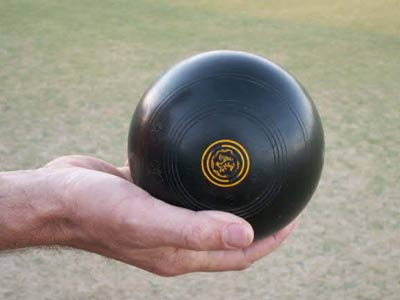 Courtesy santabarbaralbc.org