It's a saga that's gripped media watchers around the world, but as the News-Press story rolls through its most critical point - that of the federal government prosecuting the paper for labor law violations - it grinds at an exceedingly dull pace. Such has been the case over the past couple weeks, and it was certainly the case on Wednesday, September 5, in U.S. Bankruptcy Court, when the witness stand was occupied by former newspaper employees Sarah Sinclair (20-plus years in advertising, quit), Tom Schultz (8.5 years of reporting, fired for disloyalty), Barney McManigal (2.5 years of reporting, fired for disloyalty), and Anna Davison (4.5 years reporting and editing, fired for bias).
Slow-moving minutes aside, the day was not without highlights, and, as usual, it offered many insights on to how the News-Press is trying to defend itself, including one possibly problematic situation where the Teamsters did not turn over a fairly significant email. And speaking of that email, whenever slang like "rock the house," "peeps," "old skool," and "badass" gets throw around, every courtroom seems to lighten up a bit. So much so, it seems, that even the News-Press' lead attorney Barry Cappello openly ragged on his co-counsel Dugan Kelley, which brought about some needed laughter toward the end of the day.
So here's the rundown, witness by witness.
Sarah Sinclair
Wednesday morning's testimony began with Sarah Sinclair, the News-Press' former advertising manager. She worked at the paper for more than 20 years before quitting in February 2007 amidst the firings of newsroom employees. NLRB attorney Steven Wyllie brought her on to support the government's claim that newspaper management was engaged in surveillance of employees during union activities, which is illegal and one of the charges against the paper.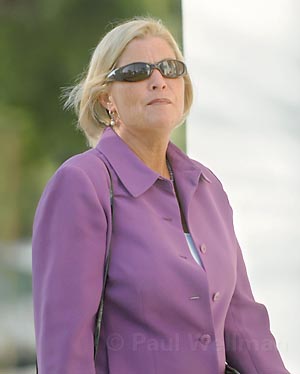 By Paul Wellman