Born of Scott Weiland's self-destructive poetry and the remains of Guns N' Roses unbridled instrumentals, Velvet Revolver seemed like a ticking time bomb from day one. Skeptics were humbled by their commercially successful 2004 debut, Contraband, but with the weight of the egos involved, the project seemed poised to collapse at any moment. But it didn't.
Libertad, released in July, is fast, unapologetic, and, most importantly, written with a sober pen. Once the poster child for the "sex, drugs, and rock 'n' roll" lifestyle, Weiland is celebrating three-and-a-half years away from the needle and pill. According to Weiland, this is the second album he has ever written sober (the other being Stone Temple Pilots' Core).
After a cathartic bout with addiction, the newly consolidated Velvet Revolver brings us songs that look backward, forward, and inward with the same chest-pounding fury that built them from the ground up. "Let it Roll" and "She Mine" find the group returning to classic rock love anthems, with Slash imparting swaggering guitar work that is elevated by an always-intrepid rhythm section, consisting of drummer Matt Sorum and bassist Duff McKagan.
Sorum phoned in from the band's tour bus in Pennsylvania to sort out the mythology of Velvet Revolver before their appearance at the Bowl on Tuesday, September 11. Formerly of Guns n' Roses fame, Sorum is well versed in all things rock star. And after hearing his words of confidence, the future of Velvet Revolver has never seemed so certain.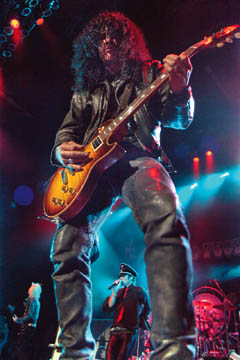 By Paul Wellman