When I was a kid growing up in Cincinnati, we could look from the bluffs where the mighty Ohio River cut through across and see Kentucky on the other side. I could see the tops of the highest buildings in Covington but what enflamed my emotions was the large expanses of forest in the hills behind the town. Perhaps this is what Daniel Boone might have felt as he crested the Appalachians and looked down into the far reaches of what then was untamed wilderness.
Photo Gallery
Kentucky Maps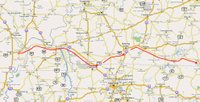 As I left Charlestown, Missouri, I wondered what Kentucky would be like. Though I'd seen it across the Ohio from the bluff tops many times I'd never actually crossed the bridge leading there and set foot on Kentucky soil.
To get there there first order of business was to cross the Mississippi. This turned out to be somewhat anti-climatic. The steel bridge leading up over it was rather ordinary, an erector-set like combination of huge steel beams and gigantic rivets, its two lanes narrow enough that it was difficult to gather much more than a quick glance or two at the river itself.
Before I knew it was was on the other side near the small town of Cairo, heading towards Poducah. leaving worries of the flooding behind. Cairo was a welcome relief to the previous day's high water adventures. The sun was out, temperatures in the mid 60s and the rolling hillsides green and wide open. I have to admit, Kentucky is a beautiful state. Though not quite what I had imagined from those childhood memories, I had envisioned thick forests, rugged mountains, a kind of James Fenimore Cooper sort of wilderness.
My first glimpse of Kentucky was far different. As I passed through Cairo there were stately mansions, the fresh blossoms of springtime framing the large two story homes and long streets filled with tall buildings that lent a sense of a far distant past. Nothing here looked like it had been built much later than Civil War times. Crossing the Mississippi apparently hadn't just been just crossing a river; there was a distinct feeling of having left the midwest behind and moving into the South.
Beyond Cairo I followed Highway 24 for an hour to a point where I could head off and explore more of the small towns and get a sense of the land. Kentucky has the kind of rolling countryside I'd experienced in Arkansas but to a much larger degree. Out of Ozark Mountains the western part of the state consisted almost entirely of open, rolling grasslands with just enough forest to provide the perfect backdrop.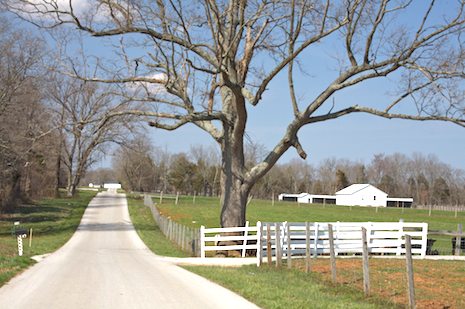 By Ray Ford