Bluefield, West Virginia. For the first time since I began my trip across America I have a deadline: I need to be at the Baltimore airport tomorrow to pick up my significant other. Yvonne is a second grade teacher, has two weeks off for spring break - which is enough for us to explore Washington DC and the Philadelphia area - but not enough to join me on the ground.
Before that I'll need to get us a place to stay near DC and make sure everything is in order. So when I wake up in Bluefield on Saturday morning I know I don't have much time to explore. Still, I can't resist an hour to see a bit of Bluefield.
Yesterday's trip had taken me across the eastern half of Kentucky. As I neared the Appalachians the land gradually turned from rolling hills and grassland to tree-covered foothills and finally mountains. Though the eastern part is as beautiful as the western half I was a bit sad to see the bluegrass fade into the distant horizon. Near Pikesville, Kentucky I was full on into the mountains and as I entered Williamson, West Virginia the signs that this was coal mining country were everywhere.
Established in 1892 as a railroad hub serving the many coal mines in the area, Williamson exemplifies many of the small West Virginia mountain towns. Located along narrow valleys and surrounded by steep walls, while main street and the rails dominate the lowlands, the brick and wood houses built by the early settlers sit almost one on top another on the hillsides. The result lends a charm and the view as one enters town is quite picturesque.
Beyond Williamson, the 60 mile drive to Bluefield consisted mostly of a series of ups and downs on tight, twisty mountain roads that was hard both on the brakes and the nerves.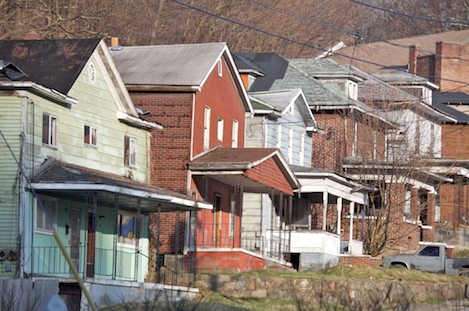 By Ray Ford