Ever since Governor Arnold Schwarzenegger unveiled his historically bloody state budget proposal in early January, Santa Barbara School District officials have been working overtime to figure out what it would mean for students and staff of its public schools. With about $4 million in cuts required this spring to meet both county and state budget requirements, the Santa Barbara School District's new second-in-command, Eric Smith, presented the public and boardmembers at an April 8 meeting with a lengthy list of possible casualties once the bloodletting becomes official later this month.
Fingering all manner of positions for potential elimination-librarians, administrators, psychologists, special education instructors-Smith's plan painted a grim picture to the standing-room-only crowd as he identified more than $5 million in money-saving options. However, despite explaining the proposed cuts as being the bare minimum "needed to basically keep our head above water next year," Smith's presentation was not all doom-and-gloom forecasting as he also identified various financial belt-tightening maneuvers designed to help soften the blow. As a result, junior high school electives, a longtime victim of the district's annual budgetary process, were spared from any further whittling this year thanks to a unanimous vote of support from boardmembers.
Minor victories aside, the Tuesday-night hearing-which was preceded by related layoff notices being mailed to 51 tenured district teachers less than a month ago-was a bitter pill to swallow for many in attendance. For boardmembers, proposed courses of action-such as reducing the total number of school psychologists in the district from 18 to 13 and undoing the mandatory class-size reductions for 9th-grade English and math classes-were areas of concern, as was the eventual replacement of retiring librarians with non-certificated "media technicians." Though the latter would save the district more than $175,000, longtime Santa Barbara High librarian Marsha Barr got more than a few head nods of approval from boardmembers when she reminded them during public comment, "A good school librarian is one of the best educational bargains around. [We] help learners learn and teachers teach."
But perhaps the biggest gripe of the evening, after junior high elective advocates were put at ease by the board's promises of preserving their funding, was the reaction to the possibility of staffing the district's three high schools with equal numbers of teachers. With San Marcos High operating under a block schedule system-which teachers, parents, and students alike testified in support of-and Santa Barbara High and Dos Pueblos High using more traditional scheduling schemes, the current district staffing formula allots some $500,000 more to San Marcos than the district's other high schools.
The fiscal recovery plan looks to put an end to this practice, potentially eliminating as many as 20 teachers at San Marcos High School next year. As longtime San Marcos High School social studies teacher Eric Burroughs put it, this amounts to "not just gutting a program but gutting an entire school."
Superintendent Brian Sarvis agreed with Burroughs and his many other colleagues who, despite calling foul on the plan, agreed that parity was a good thing just as long as it was phased in during two years.
"

When you cut an English teacher, you don't cut English. But when you cut a music teacher, you are cutting an entire music program," said one teacher at the meeting.
Also of particular concern to several of the 40-plus public speakers was the impact the aforementioned pink slips would have on high school electives like music. Already suffering from the ill effects of severely hamstrung junior high and elementary school music programs, high school classes such as marching band, choir, and jazz band need consistency in order to thrive, according to San Marcos High School performing arts chair David Holmes. Such consistency can't be possible when, for example, beloved teachers like Santa Barbara High's Charlie Ortega get a pink slip, which he did last month. "When you cut an English teacher, you don't cut English. But when you cut a music teacher, you are cutting an entire music program," said one teacher at the meeting.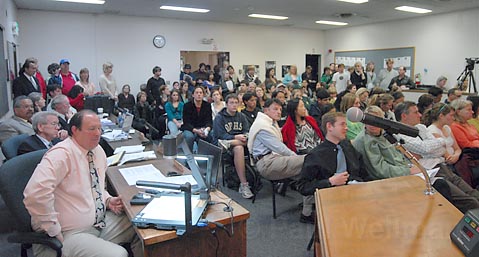 By Paul Wellman