A passionate uprising from the community, spurred by a group of nonprofit mental health and housing agency leaders, has sprung up as a result of anticipated cuts recommended by Santa Barbara County's Alcohol, Drug and Mental Health Services (ADMHS). A Web site has been established, newspaper advertisements have been placed, a rally is taking place April 18, a bus is being rented to transport people up to Santa Maria for an April 22 meeting, and an April 15 press conference attracted more than 120 supporters and media. "We refuse to make people homeless on purpose," said Mike Foley, executive director of Casa Esperanza.
At stake is a potential $8.4 million cut to the Mental Health Services (MHS) department-from $34.8 million annually to just $26.4 million-that aims to balance the county's budget for the 2008-2009 fiscal year, which will begin July 1. MHS has been facing problems for years. Last fiscal year, roughly $5 million was cut from the budget, while the department got only 2 percent of the county's General Fund. But MHS is certainly not the only department facing trouble next fiscal year. Even the Sheriff's Department, which as a public safety entity has been pegged as a top priority, will still lose $12 million, said county spokesperson William Boyer.
In 2006-07, MHS collectively assisted 5,200 adults, including 1,600 by the community-based organizations it helps fund. According to mental health agency directors, the budget cuts would mean 800 fewer clients treated next fiscal year. From their perspective, the cuts are devastating. Funding to community clinics and organizations is expected to drop from $18 million this year to about $9.8 million the next. Annmarie Cameron, executive director of the Mental Health Association, expects her funding to drop from almost $1 million to $105,000. "Almost the worst-case scenario is coming true," she said.
J.T. Turner, executive director of Phoenix of Santa Barbara, awaits the elimination of an entire outpatient program. Phoenix's Mainstream program serves 60 adults with severe forms of mental illness and helps them move out of costly institutional settings to live in the community. If the program were to end, Turner estimated, the cost to the county in inpatient costs would get up to $1.2 million because the clients would lose their housing and, in turn, their stability. Barry Schoer, executive director of Sanctuary Psychiatric Services, expects his contract for two beds at Sanctuary House and a contract for services at the Arlington Outpatient Center to both be eliminated.
More real than numbers and dollar signs are the stories from those with mental illnesses. James DeVoe, a staffer for the Work Training Program, has also been a client for about 20 years. Hospitalized with a mental illness, he was given a chance when he was provided medication and housing in Goleta, which in turn allowed him to graduate from UCSB in 1998 and then from graduate school at Antioch University in 2001. "I would've never been able to do anything without the support of the mental health community," he said. Now the house manager at Heath House on Sola Street, he has lived for more than 10 years with others who have mental illnesses. Should cuts go through, the seven people now living there, including DeVoe, would be without a home.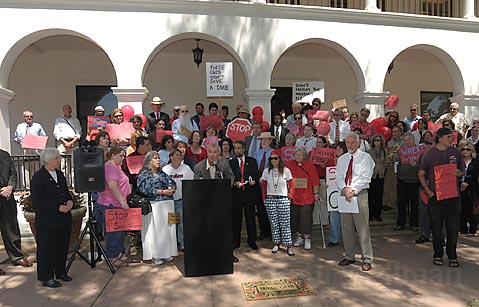 By Paul Wellman