Intrigued by China's recent economic changes, last year I began wondering, "How could a country grow so fast?" So to answer my question, I went to eat Chinese.
Though the Olympics in Beijing wouldn't begin for more than a year, the city was getting ready-and fast. The government was reeducating men who spit publicly. Giant banners advertising products marketed the upcoming games. The skyline was filled with cranes and steel skeletons 50 stories high.
Amid the frenetic growth, my boyfriend, Mike, and I timidly entered hutong neighborhoods (alleyway ghettos) like trespassers into someone's living quarters. But their small, hole-in-the-wall restaurants with four tables and grimy, steamy glass portended unappetizing research. Instead, we ate our first Chinese meal, Peking duck, at King Duck Restaurant, recommended by a fellow Los Ba±os swimmer in Santa Barbara who often traveled to China.
Upstairs, we sat next to a window of roasted, hanging duck carcasses. The hostess slid gold silk fabric sleeves over the tall-backed chairs to cover our coats yet the strong duck smell permeated the leather and wool. A silent boy in a white hat and jacket carved the duck tableside. He covered slices of dark meat with thick, amber-colored fried skin. We made little Chinese burritos by wrapping the duck breast in thin, small steamed pancakes, stuffing them with garlic, scallions, cucumber, and hoisin sauce.
Five minutes later, our duck reappeared, ground and fried with onions, with nothing to absorb the duck grease. It was delicious. The third round arrived in a huge bowl of milky duck bone soup with pieces of tofu and green vegetables. Last were watermelon and mandarin orange slices, a dessert we had often.
Each morning began with a buffet breakfast at the Peninsula Palace Hotel. Eastern breakfast included congee (a watery rice porridge), dried fruit, boiled Jaiozi dumplings stuffed with pork or shrimp, and my favorite: vermicelli noodles fried with eggs and green onions.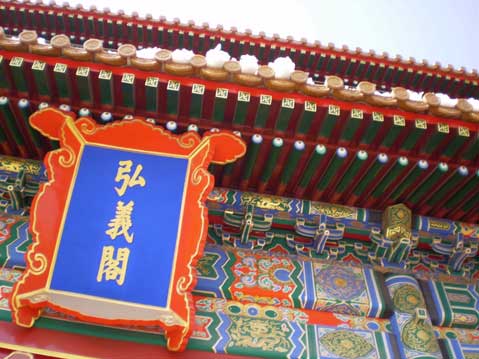 Liz Podolinsky