It was a starry night in the Santa Ynez Valley when the racehorse to be named Gentle Romeo came into the world. He was born at 10:20 p.m. on April 5, 2004. He was the fifth foal and the first colt delivered by Quiet Romance, a beloved broodmare at the River Edge Farm near Buellton.
Gentle Romeo was one of 37,822 North American thoroughbred foals registered in 2004 by the Jockey Club. Although most were bred for the purpose of racing, the odds were against them from the start. According to statistical expectations, fewer than half would make it to a starting gate, and just one in 10 would ever win a race. A single horse with a mystical combination of ability and luck would win the Kentucky Derby in 2007.
Two factors were in favor of the Quiet Romance colt's chances at least to have a day at the races: his breeding and his upbringing. His sire, Benchmark, was gaining a reputation as one of California's top stallions. Quiet Romance had earlier produced two fillies, Silent Sighs and Proposed, both sired by Benchmark, that would become stakes winners. Their newborn brother would be raised in the same environment that prepared them for the bugle's call at Santa Anita, Hollywood Park, Del Mar, and other racetracks.
Along the River Edge
River Edge is a 240-acre complex of stables and tree-lined pastures that spreads on both sides of Highway 246. It grew out of a tomato patch that New York entrepreneur Marty Wygod purchased in 1976 to house his own thoroughbred-breeding operation. Wygod hired Russell Drake, a horseman who had migrated from New Mexico to California, as his farm manager. The partnership of both men, now in their mid sixties, is still going strong.
"New Mexicans and New Yorkers normally don't get along," Drake acknowledged. But in this case, it is a symbiotic relationship.
Wygod lives in a world of high finance. He developed a mail-order pharmaceutical company that was sold to Merck & Co. for $6.5 billion in 1993. His growing prosperity enabled him to invest heavily in horse racing, a sport that had enthralled him as a young man. His wife, Pam, oversees philanthropic projects. The couple moved from New Jersey to California in 1995 and reside on an estate in Rancho Santa Fe.
For more than 30 years, Drake has spent the majority of his waking hours at River Edge. "The farm is more his than mine," Wygod said. Drake dons a billed cap every morning and oversees the care and feeding of several hundred horses. The population consists of stallions, mares, foals, yearlings, and layovers (horses taking a break from racing and training). Not all are owned by the Wygods. Other owners send their mares to breed at the farm.
Drake has a keen eye for the conformation of horses, and Wygod consults with him before matching his mares with stallions. "Russell is my main consigliore for breeding," Wygod said. When a successful racehorse is produced, Drake gets the satisfaction of an artist. But he seldom goes to the races. The Wygods get to bask in the glory and reap the monetary rewards of his toil.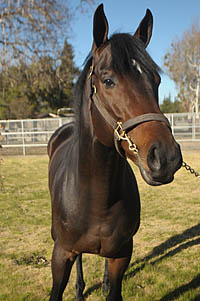 By Paul Wellman