Of Santa Barbara's many attractions and advantages, the ocean - with its opportunities for the watching of whales - and the harbor - with its opportunities for the watching of tourists - are not the least. The harbor, in addition to its usual complement of knee-socked visitors, is also home to approximately 1,100 boats, some of which are used for fishing, some for living aboard, and others for pure recreation.
The naming of boats and ships has a long and superstition-ridden history. Naming or launching a vessel has always been accompanied by some sort of offering or prayer to whatever god is considered relevant. For the ancient Greeks, it was Poseidon, god of the sea. Monotheists typically choose to pray to their one God or to patron saints, depending on the religion in question, in the hopes that the powers that be will intercede to prevent shipwreck or disaster. The tradition of breaking a bottle of wine or champagne over the prow comes from the offering of wine made by Greeks and Romans to the gods before a ship set sail for the first time.
The naming of a boat, of course, is a part of this tradition. The idea is, or used to be, to give a ship a lucky name, thus affording it some protection from the vagaries of the sea. However, as can be seen in the Santa Barbara harbor, some names are just a little odd, and make one wonder exactly what deity the captain intended to propitiate.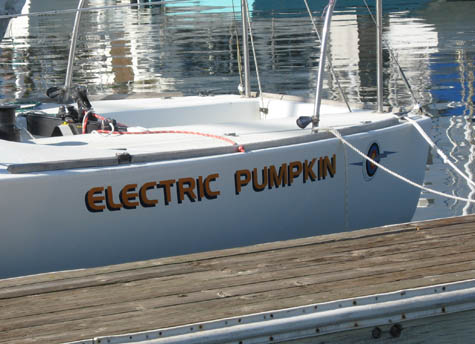 By Elena Gray-Blanc