Book lovers come in many varieties. There are those who merely glance through the occasional paperback, those who own many books, and those who parlay their love of the literary into actually owning and operating a bookstore. Eric Kelley, owner of The Book Den on Anapamu Street, is one of the latter, and the store's shelves are a testimony to the fact that no book is too outre to escape his notice.
While many perfectly normal books are on sale at The Book Den, there's also a plethora of weird gems, perched quietly on shelves, awaiting the attention of the avid collector with a taste for the strange. This week's Weird SB offers a survey of the best, worst, and weirdest volumes available.
Brain surgery is typically best left to the well-trained. However, Advances in Stereotactic and Functional Neurosurgery 10 contains thousands of handy tips for operating on the brain of your choice - articles like "Clinical Evaluation of Computed Tomography-Guided versus Ventriculography-Guided Thalamotomy for Movement Disorders" spell out techniques quite well, even for the layman. Try it at home!
There are also options for the less adventurous. The Book Den has an excellent selection of cookbooks, including 88 Danish Dishes. This slim little volume contains recipes for authentic and possibly even delicious Danish foods such as grilled lamb's head or liverpaste and tongue - after you're done with those, you probably won't need an 89th dish. A good companion purchase might be Wurst You Were Here: The Choice Cuisine of Germany, which offers easy-to-follow instructions on the making of rabbit cake, pig's knuckles and sauerkraut, and eel soup.
And that brings us to after-dinner entertainment. Forget the ouija board - the occult has much more to offer. One option might be The Rabbi's Tarot, an illumination from the kundalini to the pineal to the pituitary, by Daphna Moore. While there are more tarot sets than you can shake a wand at available in every bookstore, The Rabbi's Tarot is special. According to Ms. Moore, it "reveals how the practical occultist develops the pineal and pituitary glands by energized currents coming through the seven centers or Chakras … When the pineal gland is energized by the transmuted sex force (THE MAGICIAN's wand), the sex force is then turned into the White Light."
Who knew that the tarot could be so spicy? I can only assume that this book was written with Reform rabbis in mind - energized pineal and pituitary glands can't possibly be kosher enough for the Orthodox.
For anyone who prefers to stay away from organized religion, even in the form of tarot, there is also the Pocket Guide to Shamanism, by Tom Cowan. The book really is pocket-sized, and would be the perfect gift for a person on the go who has everything except the ability to contact animal spirits.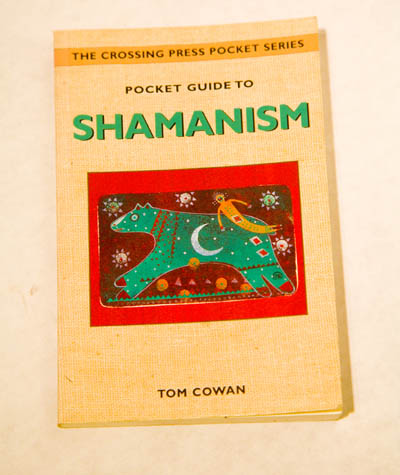 DeeDee DeGelia