Going from the normal hum-drum of everyday life to five days of smoke, soot, ash, evacuations, and the hundreds of untold dramas throughout Goleta, to a town seemingly on the verge of destruction, hum-drum seems like a good thing.
Thus far Goleta residents have been tossed every which way, both physically and mentally. Last night, for the first time in way too long, good news began to work its way into the conversation once again.
What happens over the next few days will determine how far that cheer will go.
Today, the fire was extremely active on West Camino Cielo from a point just west of Windermere to the Winchester Gun Club.
Photo Gallery
Gap Fire, July 6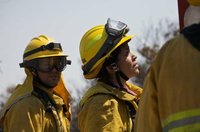 The fire perimeter began to shift towards the west with the flames moving towards Condor Peak and the crest. The fire was also very active along the area from Windermere to the Gun Club as well. By Ray Ford
Over the past several days the fire has done what the firefighters call "bumping" the road - something that occurs when the fire creeps up to it in a fashion that is fairly easy to put out by a pumper crew and plenty of water.
Today, engine crews, pumpers, and water tenders were busy all afternoon tending to dozens of these bumps as well as what I'd call a few hard hits, with flames reaching 15-to-20 feet in many places.
For the first time, the crews began to light backfires with flares and drip torches while other firefighters stood with their backs to the fire, looking north for any sign of a spot fire igniting the brush.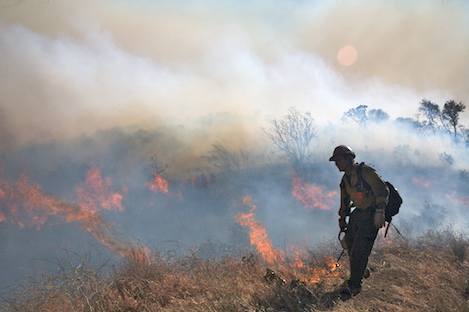 By Ray Ford