Tonight, Lizard's Mouth was covered with fire.
When the flames from the Gap Fire finally got close enough to this unique sandstone outcropping, after days of avoiding it, the fire fighters were ready. They attacked with a succession of backfires lit with drip torches, fusees (similar to highway flares), and specially designed cartridges that are shot from what look like pistols.
Within minutes the entire roadside was lit with two-story tall walls of flame. While on one side of the road, hand crews looked for spot fires, on the other side a pumper engine fed pressurized water through hundreds of feet of hose line to keep the fire in check.
Tonight, as I left the area that I named for its long reptilian snout about 30 years ago, the trail to Lizard's Mouth was filled with smoke, pockets of fire, and numerous beds of glowing embers that pulsed a deep orange-red in the night sky.
The effect was extremely dramatic but not nearly so dangerous as it might appear.
The quarter-mile long sliver of unburned chaparral that stretches from Windermere to Lizard's Mouth has proven extremely difficult to put out. Though not extensive in size, the rugged terrain and thick brush make it difficult to attack the fire directly. Instead, the crews have waited patiently for it to come to them.
Over the past several days the crews have been there when the flames have pushed up towards the road. Preceded by thick columns of smoke which seem like all will be lost, there has been little difficulty in extinguishing the fire as it makes these dramatic runs.
Even today, as I made my way up to the top of the mountains, I found myself doubting the situation. From the Forest Service headquarters I counted a number of those columns, which from below seemed to have already crossed over to the back side of the crest.
So much of what we see in the Gap Fire fire is pure illusion. As I turned off onto West Camino Cielo, one of those columns seemed just over the near ridgeline a half-mile away. It turned out to be near the end of the paved section of the road at Lizard's Mouth.
Of course, the smoke and fire was also safely on the coast side of Camino Cielo too - not by much but with the pumpers, other fire engines, hand crews and helicopters at the ready - the backfiring operations were going exactly as planned.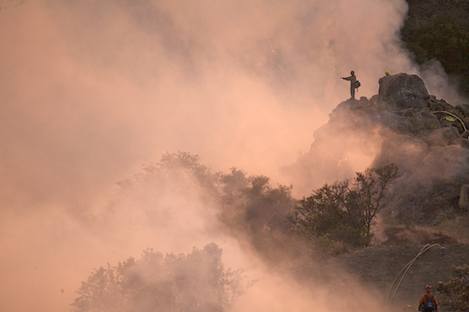 By Ray Ford