Mother Nature played the trickster today. While fire officials were preparing for temperatures in the high 90s and extreme fire behavior, firefighters were treated instead to temperatures in the low 80s and a relative humidity more suited to the tropics.
If you believe in miracles, your prayers were answered today. Conditions were perfect for shutting down fire activity and made it possible for hotshot crews to work directly on the fire line below Condor Peak - despite predictions that the fire would make a serious run on West Camino Cielo today that crews weren't sure they could handle.
But this has been the norm rather than the exception with the Gap Fire. Last Wednesday evening, as the fire began to descend toward the Edison power lines, it appeared houses would burn. The next night, when the flames pushed uphill west of San Jose Creek it seemed whole communities would be consumed. This morning, given the rugged terrain and extreme weather, it seemed like firefighters' backs were to the wall once more.
Each morning we've woken to the realization that we've survived intact; yet there has been little time to celebrate. Like a 400-meter high hurdler preparing for the Olympics, clearing one obstacle in this fire has allowed little time before the next one is directly in front of us.
Tonight, the final hurdle may be faced. Rather than raging firestorms and flare-ups by 2 p.m. today, when fire activity should have been picking up, there was almost no smoke to be seen anywhere on the western front.
This afternoon I am settled in at the top of Farren Road with Stan Smith, crew leader for the Los Prietos Hotshots. Smith is working with team members from the Santa Ynez Helitack team to load needed water, gas, chainsaw oil, food, and overnight packs to support the 120+ firefighters building hand lines directly above us near the base of Condor Point.
Crews from the El Carizo, Mormon Lake, Gila, Black Indian, Pleasant Valley, and our Los Prietos hotshots have been working at a fever pitch last night and throughout the day to circle the fire line. Tonight they will snuggle in with their gear, ready-to-eat meals, and gallon jugs of water to refresh themselves for tomorrow's push.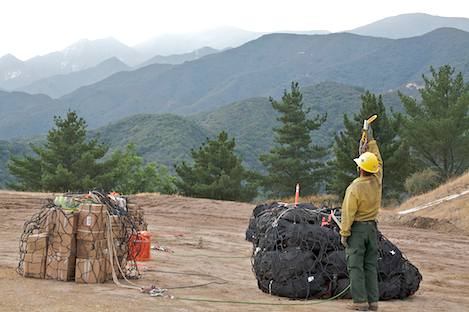 By Ray Ford