(Editor's note) Every Santa Barbara resident has been through some version of the following scenario. Your favorite friends in the world are, at long last, on their way to Santa Barbara for vacation, and you are either going to be really busy at work, out of town, or, as I was over Memorial Day weekend, both. How do you squeeze the most out of having friends visit without dropping your job or your life? Fortunately for everyone concerned, a lot of Santa Barbara requires little or no explanation. A group of intrepid travelers could tackle it themselves and likely have a ball. "But what about me?" you say. "Don't I deserve to have some fun too?"
Yes, you do, and here's how. With the help of expert travelers and long-time New Yorkers Stacy and Sebastian Wahl, I managed to come up with a way to make our situation work. Even though I missed a lot of what they got to do, like go to Lightning in a Bottle, and have lunch at ABC vineyards with Bob Lindquist, I still had a great time with them and got to share a lot more of their trip than we had at first expected. It was a less than ideal situation, but by the time we were through, I had gained new confidence in my ability to host visitors, hang out with them, and keep things here together, all without going (all the way) on vacation myself. Call it a vicarious vacation.
The first things we agreed to were that Sebastian would take pictures and Stacy would keep a journal of all the things they did while they were here. We had Thursday night, Tuesday night, and Wednesday night to eat together and trade stories, which would be plenty of time, especially with such high impact documentation (see below).
The next step we took involved spending some money on my part, but it added so much to the experience that I recommend it without qualifications. For me, the hardest thing to have to miss would be the wine tasting. I had been to Lightning in a Bottle, but I have still never done a real two-day wine country tour, and certainly not anything like what they had scheduled. So for me to experience this part of the trip, Stacy agreed to buy for me as much as my budget would allow of whatever she thought was most interesting. The resulting mixed case (plus two magnums) sits in my house right now, still in the box from Foxen with "Parker tasting April 24" written on it in Sharpie. I haven't got through it all yet, but somehow the fact that I missed out on all the barrel tasting, sightseeing, and excitement is a little less painful with a delicious glass of Brewer-Clifton's amazing Lindsay's Pinot Noir in my hand.
What follows are Stacy's notes and Sebastian's photos. Together they tell a great story about what we have here by showing how it all looks to a couple of savvy out-of-towners. So the next time you encounter the stereotypical tourist, consider the possibility that there are other visitors here too, people like ourselves with an ability to fly in under the radar and make off with the best that Santa Barbara has to offer. —Charles Donelan
Gone Green in Santa Barbara
Santa Barbara County, one of the most enthralling destinations in the United States, is the polar opposite of my home in New York City. My husband and I have lived there for more than a decade, high in the sky in our apartment on the 22nd floor near Gramercy Park. Neither of us had ever been to Santa Barbara before and we were determined to make this trip an attempt to catch lightning in a bottle. "Trying to catch lightning in a bottle" describes something that's extremely difficult, perhaps bordering on the impossible. Like successfully producing the world's first and only green music festival, the aptly named Lightning in A Bottle. The phrase "to catch lightning in a bottle" can also express the idea that a person has succeeded in trapping the essence of some elusive creative process, which brings me to wine and the winemakers who are busily capturing the essence of the local grapes from the area's vines in the wines of Santa Barbara County.
Our first stop was the wonderfully hip Presidio Motel on State Street, and then it was on to the Lightning in a Bottle festival, which is held each spring at Santa Barbara's Live Oak Campground. We then planned to travel northwest from LIB into Santa Ynez, the Santa Rita Hills, and the Santa Maria Valley to sample the region's much heralded wines.
Part I-Lightning in a Bottle
Living in New York City requires presence of mind, but that does not automatically imply environmental awareness. I am extremely aware of my impact on other humans as I move about the Big Apple, yet I sometimes forget to think about my footprint in the environment, or my impact on the local economy. For me as a New Yorker, a classic example of conscious awareness is looking out the back window of a taxi before flinging the door open and possibly taking out an unwitting bicyclist. As a result, camping for three days amongst the Lightning in a Bottle community raised my "think before I act" consciousness to a whole new level.
At Lightning in A Bottle one gets immersed in the eco-conscious, green, sustainable lifestyle. This one-of-a-kind festival (yes, Burning Man is a definite inspiration, but LIB has far fewer participants, a much less harsh environment, food vending, and even showers!) has been providing fun, entertainment, and education to underground souls for years, and all the while supporting green business and sustainability. LIB started on the down low in a remote location and has grown by leaps and bounds since going more mainstream in recent years, reborn under the Do LaB's revolutionary green business ethics and standards.
In its own words, the Do LaB is a radical art collective committed to the expansion of minds and the destruction of conventions. Do LaB founder Jesse Fleming, 29, and his team strive to stimulate consciousness at their events by building large-scale, interactive art installations and creating surreal environments for people to temporarily inhabit in which they can "party with a purpose." Their approach invites participants to feel like they're a part of what is happening rather than just paying for a ticket to then be entertained as transient spectators. Fleming's kick-ass team includes the skilled resident designer Josh and green expert Shena Turlington. This crew has come further than any other festival in the world in applying the concept of greening to the 2008 Lightning in a Bottle event.
Lively panel discussions on topics such as bio-diesel fuels, composting, social networking, and community consciousness were a pleasure to absorb in the Bottle's cozy cocoon in the woods. There are recycling guidelines and stations available at the event that inspire a leave-no-trace ethic amongst festival attendees.
There is also plenty of visual stimulation to complement the educational opportunities. I couldn't walk 100 feet at LIB without seeing an outrageously clad stilt-walker lumbering through the forest. The Bazaar section of the festival was filled with artists selling countless one-of-a-kind crafts of their own designs. And, there were tons of giggling kids present taking advantage of the workshops in the "Kids Area" made just for them. Kid activities included wildlife hiking and tiara making. LIB is truly a family festival and this dynamic further added to the strong sense of community that is unique to this gathering. One morning, while standing in line at one of the java vending stands, I saw the most beautiful twenty-something mother decked out in a feathered fedora, black stretchy body-hugging clothes, and suspenders-bringing that cabaret/vaudeville look so prevalent at LIB. Her healthy baby was smartly wrapped up in an additional piece of black cloth and securely tied to the young woman's body facing her breast. When the baby managed to maneuver through the layers of stretchy fabric and help himself to his mother's milk while she patiently stood on line for something to eat or drink, it was utopian. This vision of a nursing mother and her happy child stayed with me throughout the weekend, leaving a secure glee in its wake.
In addition to the workshops, inspired empathy, and art installations, Lightning in A Bottle overflows with top-notch entertainment. The Do LaB's sister company and world-renowned performance troupe Lucent Dossier created by Dream Rockwell provided a gigantic chunk of eye-candy at LIB. Dream based her Lucent Dossier concept on the idea that a circus-like vibe would be more fun than anything else she could imagine. Lucent Dossier believes that it is artists who will shape the future, as they are the ones who see beyond what is, and into what is possible. Witnessing the gorgeous aerial and acrobatic feats of this well-sculpted collective of beautiful people, I immediately felt tapped into the rich imagination that this crew inspires in one another. Lucent Dossier's performances throughout the weekend were raw, boundary stretching, in your face (sometimes in the crowd) spectacles that confronted emotional and environmental themes with an impish flair.
Day and night at LIB, the music flowed from booming sound systems surrounding the three main stages-Treehouse, Bamboo, and Woogie. These stages were made by master creators like LIB veteran Shrine, who built the Treehouse Stage from, you guessed it, GARBAGE! The Bamboo Stage was conceived and constructed by bamboo artisan Gerard Minakawa and his crew. The Treehouse Stage looked more like a Shipwreck stage to me, but the Bamboo Stage looked exactly like what it was dubbed. Bamboo is a quickly renewable building material that is also incredibly strong and pliant. Shrine is slated to build the ambitious Temple structure at Burning Man this year while Gerard Minakawa impressed many with his sculptures at last year's Burning Man. Heading out from camp into any of the eight residential "patches," with veggie names like Carrot, Rutabaga, or Asparagus, and toward one of these three stages provided a chance for a reflective, invigorating walk en route to catch a slew of talented deejays.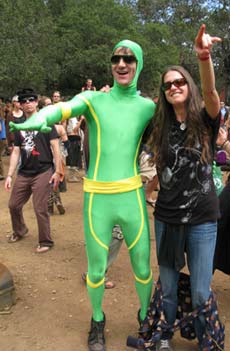 Sebastian Wahl