The buzz about birth choices in Santa Barbara has grown audibly louder in recent months. In January, the Central Coast Doula Association sponsored two sold-out screenings of the documentary The Business of Being Born. The Baby! International Film Festival expanded the dialogue in the community over Memorial Weekend with a series of films and expert panels. Dozens of community members rallied for regional access to vaginal birth after cesarean (VBAC) on June 23. And the labor and delivery unit at Goleta Valley Cottage Hospital closed its doors on July 1.
With the 2003 closure of St. Francis Hospital, Cottage Health System's (CHS) facilities became the only hospitals in the area offering labor and delivery services. Santa Barbara Cottage Hospital (SBCH) averages more than 2,400 births annually and is equipped to handle higher-risk pregnancies and critically ill newborns. In comparison, Goleta Valley Cottage Hospital (GVCH), which catered to low-risk births, averaged 350 births per year. Although CHS had always intended to consolidate obstetrical services and staff in the downtown location upon completing SBCH's new women and children's facilities in 2011, recently announced changes in physician practices accelerated the closure of the Goleta birth unit three years ahead of schedule.
While Santa Barbara lacks a true birth center-by definition, a "birth center" is staffed by certified professional midwives-the Goleta unit was long considered a happy medium between home births and a traditional hospital setting. It was the first hospital in the area to implement a family-centered maternity program, pioneering a more progressive attitude toward the in-hospital birth experience. In 1997, the center was awarded "Baby Friendly" certification by the World Health Organization and UNICEF, the first in California to achieve this distinction for its optimal breastfeeding conditions and support.
"People are lamenting the closing of the birth center," said Mary Jo Terrill, a nurse who had worked at GVCH's Labor and Delivery unit since the early '90s. "It was a very sweet place, very humble. Our team of nurses shared the same goals for mother care and baby care; they believe in and want to give a very sensitive kind of high-touch, low-tech care. It's not that they didn't give high-tech care if it was needed. But they wanted to proceed gradually and gently, so they used interventions as, and only when, it became apparent that maybe an intervention would have been helpful for mother and baby, based on what the physician and the nurse and the mother decided."
"

It's a bit early to say what [from

GVCH

] is being incorporated into the new hospital" - Cottage spokesperson Janet O'Neill
The Goleta center was considered the alternative to a traditional hospital birth for women who desired the comfort of a home birth but felt more secure delivering in a medical setting. With the loss of the Goleta unit, SBCH is now the only option in the area for a hospital delivery. SBCH's new maternity wing will feature all private rooms like its more intimate Goleta counterpart. "It's a bit early to say what [from GVCH] is being incorporated into the new hospital," commented Cottage spokesperson Janet O'Neill, "but it'll have a very comfortable feeling." While GVCH represented an option for pregnant women anticipating low-risk births, SBCH has been the go-to place for higher-risk pregnancies, such as multiples and breech births. Their high-risk maternity programs offer prenatal care to women who require bed rest and monitoring prior to labor, and their vaunted Neonatal Intensive Care Unit ministers to about 10 percent of all newborns, including premature babies and those who develop complications at birth.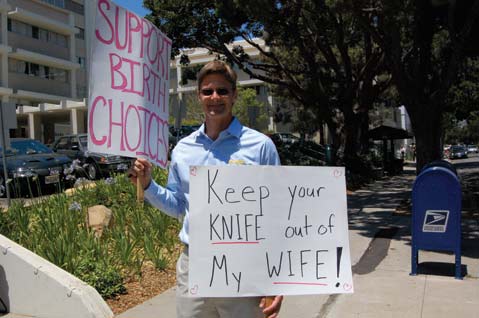 Catherine Meagher